UPSC is one of the toughest exams in India, for all aspirants who are trying their best to clear India's top competitive exams, IAS in particular, nothing can be as greatly inspiring as success stories of real-life achievers from this country. We can learn how to set bigger than usual goals and dead determination to fight back tough times and situations by following these real-life champions.
Ansar Ahmad Shaikh
The youngest candidate who has cracked the UPSC Civil Services exam at the age of 21 is Ansar Ahmad Shaikh with an all India rank of 361 in his very first attempt in 2015. Ansar sheikh, the son of an auto-rickshaw driver and whose brother is a mechanic, hails from a marginalized family from the Jalna village of Maharashtra.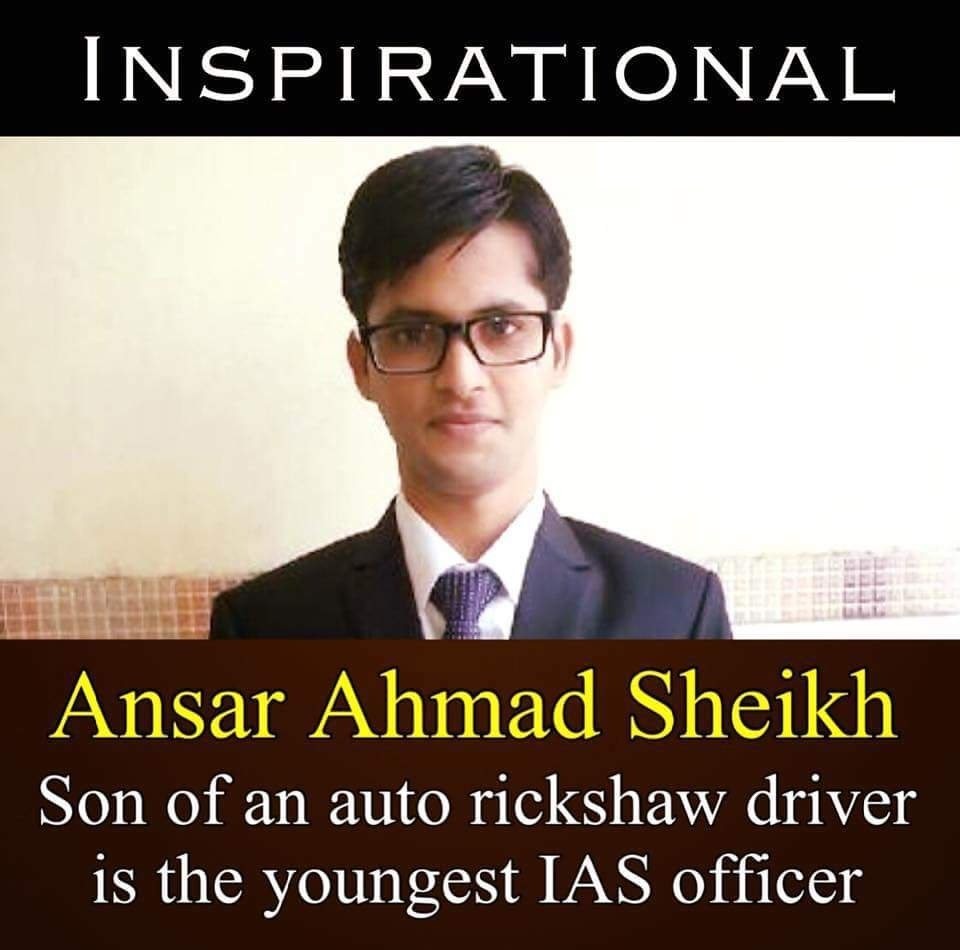 Although Ansar's economic condition was not good, he excelled in studies from the very start and managed to complete the college course of B.A in Political Science, Pune. While preparing for his UPSC exam he used to work 12hours a day straight for around three years.
He has crossed all odds like poor economic condition, religious discrimination etc to crack the most prestigious competitive UPSC examination of India. His achievement is really worth applauding by coming from a poor conservative Muslim family. For many poor aspirants who are trying hard to crack the most prestigious competitive UPSC examination of India, he became a source of inspiration.
According to this budding civil servant, as he came from a backward underdeveloped region and from a minority community he has a better understanding of the horizontal differences that exist in the society. Moreover, as an administrator, his first-hand tryst with social ostracisation has also provided him with vivid solutions for deep-rooted problems.
Kuldeep Dwivedi
In 2015 Kuldeep Dwivedi has secured an all India rank 242 in the civil service exam conducted by UPSC. He is a son of a security Guard of Lucknow University. It has proved that nothing can stop your will to succeed. His father Surya Kant Dwivedi works at the University of Lucknow as a security guard and struggles to make ends meets for his family of five.
But the economic conditions of Surya Kant didn't stop him from encouraging his son to pursue a career in the most prestigious job in the Indian society. He did his best to support his son's ambition morally and economically. The whole family could not believe even after the results were declared that their youngest son has achieved a great goal in his life.
Later Kuldeep Dwivedi explained to his family what it meant to rank in the Civil Services Examination conducted by the Union Public Service Commission (UPSC). He is youngest of three brothers and a sister. Since he was a child he wanted to become a Civil Servant.
In 2009 Kuldeep Dwivedi completed his graduation from Allahabad University and then completed his post graduation in 2011. If you see his life then you can conclude that hard work is not dependent on circumstances and you should keep faith in the most important ability. His success is a shining example of determination and hard work.
Sweta Agarwal
This is another inspirational story of a daughter of a grocer from Bhadreshwar. Sweta Agarwal, who secured the 19th rank in the UPSC examination in 2015 finally realized her dream of becoming an IAS officer. From gaining basic education facilities to becoming one of the top 3 women toppers of UPSC exam 2015 her story of struggle is filled with overcoming multiple odds ranging.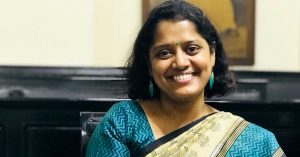 She explains how her parents gave her the best of education possible despite battling poverty. Sweta is proud of her parents and praises them for their efforts. From St Joseph's Convent Bandel School Sweta Agarwal completed her schooling. After that, she completed her graduation in Economics from St Xavier's College Kolkata.
Sweta Agarwal had already cracked the UPSC exams twice before she became an IAS officer. Sweta proudly joins the Bengal cadre and also thinks that she could change the misconception of the youngsters who are staying away from Civil Services by thinking that they would be made to serve under political bosses and not for the public.
Usually, for a girl from a moderate family, it's very difficult for parents to support their children's ambitious dreams. But crossing all boundaries of gender bias, Sweta Agarwal and her family showed us unconditional hard work and perseverance.
Hrudaya Kumar
Hrudaya Kumar is a son of a below poverty line farmer from Angulai, a remote village in Kendrapara district of Odisha. He has secured 1079th rank in the coveted civil service examination 2014. Even he has an underprivileged background; he never looked back and achieved his ultimate goal. His family got a house from Indira Awas Yojana which is a social welfare flagship programme of the government.
From government-run-primary and high school, Hrudaya Kumar has completed his primary and secondary education respectively. He completed his 12th class with second division marks. He was good at cricket and wanted to pursue a career in the same. He also played in the district level and represented his home district team in the Kalahandi Cup tournament.
Somehow the situation has changed and he was forced to choose academics. After completion of secondary education, he went for a five-year integrated MCA course at Utkal University. He utilized the environment he got for studies and tried to crack the civil services exam. He failed to secure his name in the merit in his first two attempts than on the 3rd attempt he got what he aimed for.
Givind Jaiswal
Govind achieved 48th rank in 2007's civil services results and became an IAS officer at an age of 23. He was born in a very poor family in Varanasi. He spent his childhood in a rented, congested room that he had to share with his three sisters and parents with no scope of time and the right setting for study at all. His father was a rickshaw puller and mother was a housewife. They sent him to a school in Varanasi where he began to aspire to become an IAS officer.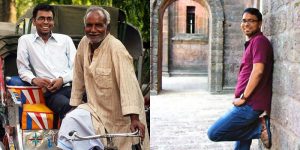 Govind wanted to go for the civil services through school but could not do that because of poverty. His family condition became even worse when his father got a serious leg injury and could no longer pull rickshaws. By crossing so many obstacles finally, Govind got the most prestigious job in India.