TN Velai Vaippu Online Registration 2020 – Eligibility, Process, Full Details
TN Velai Vaippu Online Registration 2020 is at tnvelaivaaippu.gov.in.  This is the employment registration method in the state of Tamil Nadu. TN Vellai Vaippu is an online website. This is for online registration in employment exchanges of the state. The TN Velai Vaippu online website was launched on 15th September 2013. After the start of the TN Velai VAaippu.gov.in online portal. Aspirants are not required to visit the TN Employment Exchange department for registration and card renewal.
Now to get complete information on this portal. Readers should go to the article shared as below. Here, they will find all the data related to TN Employment Exchange online registration process, TN Velai Vaaippu online renewal, login, documents required, eligibility, etc. Check the full article here. This will help you out.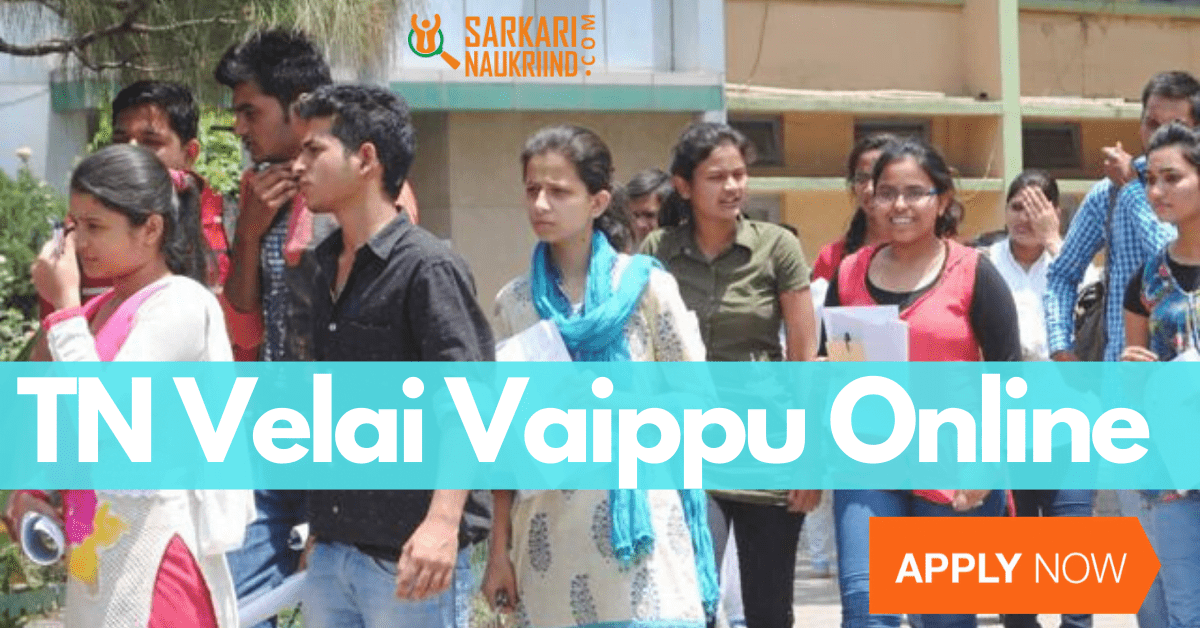 TN Velai Vaippu Online Registration
Employment exchange is an department that helps in providing employment assistance. This is to the candidates who are registered with it . Which is on the basis of their qualification and experience. It helps providing information to the registered candidates.  And other job seekers regarding various jobs available in the market. Check the tabe here. This will help you. Here we have full details, full highlights given. Do have a check here.
Name
TN Velai Vaippu
தமிழ்நாடு வேலைவாய்ப்பு செய்திகள் 2020
Category
TN Velai Vaippu Registration Details
tn velai vaaippu online renewal
Concerned Authority
Department of Employment and Training, Govt. of Tamil Nadu
Year
2020
Mode of registration
Online
TN Velai Vaippu Validity
3 years
State
Tamil Nadu
Official Website
tnvelaivaaippu.gov.in
TN Velai Vaippu Eligibility
Check the eligibility Criteria here. This is for employment registration given below. Check the full details here.
Those who have pass class 8th, 10th, 12th, UG, PG, etc. can register.
Failed students are also eligible for this.
Aspirants having a driving license (knowledge of driving), Typewriting skills, Language certificate holders and having other qualifications are also eligible.
Tn VelaiVaippu Documents Required
All the candidates require to have following documents ready. This should be with them at the time of registration. Check this out. Do have a look at this.
All educational related mark sheets, certificates, and related documents.
The Provisional certificates  for graduates
Aadhaar Card
Caste Certificate (optional)
Passport-size photographs
Experience Certificate (if candidate is having one)
Nativity Certificate
Other certificates relevant to job experience, sports, ex-serviceman, physically handicap (issue by
Medical Board/CMO), freedom fighter, widow, etc.
Certificate by Sarpanch/ Municipal Counsellor
Any of the following identity proofs- Voter's Identity Card, Passport, Ration Card, birth certificate, domicile
certificate, etc.
Candidates should note that all the documents are original and genuine.
How to register on TN Employment Exchange Online?
For online registration, You need to follow information shared as under. This will help you. Check this out. Do have a look here. Follow these easy steps here.
Go to the official website- https://tnvelaivaaippu.gov.in/Empower.
On the dashboard click on "For a new User ID Registration" link.
A dialog box with terms and conditions will appear.
Read the important data and click on "I Agree" button.
Candidate registration form will appear.
Aspirants fill all the entries such as name, gender, date of birth, email Id, date of birth, mobile no., etc.
Hit on "Save button".
Now Take the printout of the registration form.
Candidates will be issued login credentials.
How to do TN Velai Vaaippu online renewal 2020?
To renew registration candidates are required to follow the steps shared here. Follow this out. This will help you. Do have a look here.
Visit to the official website mention above or click here.
Hit on "Renewal" button.
Fill the username and password and proceed further.
Follow the instructions and complete renewal.
How to Update Profile?
In this case, registered aspirants wish to update their profiles. This is by adding qualification and experience.  Then they can also do that online. They can take help from steps share here. Follow this up.
Visit to the https://tnvelaivaaippu.gov.in/Empower.
Click on "Update Profile" link.
Fill your username and password.
Add information to be updated.
Follow further instructions and save the updated data.
How to Login into TN Velai Vaippu?
Follow the steps here. This will help you. Do check this out. Look here.
Visit https://tnvelaivaaippu.gov.in/Empower.
Hit on "Candidate Login" option.
Aspirants login page appears.
Fill information such as exchange code, gender, year of registration, registration number, user Id, photo id, password and click on login button.
Important Information
Candidates having a Postgraduate (PG) and Professional Graduate Degree. They can apply only by the concern Regional Employment Office.
Candidates are advise not to enter any incorrect information while registration.
In case of issue or omission in registration details, candidates require to approach the concern employment exchange along with relevant documents and certificates in person.
Aspirants must keep their registration Id and card safe. That is for further references.
Before login, users should follow the login data mention on the homepage of the website.
Registered aspirants can update their profile any time. This should be by adding qualifications and job experience.
Now To avail the services and benefits provided by employment exchange registration. They should renew after every 3 years.