RTPS Bihar Online Certificate – Caste, Income, OBC, Residence And Land
RTPS Bihar Online Certificate is an official website for All Certificates. You Can Apply Online Caste, Income Certificate, OBC And Land Possession certificate.आय प्रमाण पत्र. RTPS is an online platform that was established by the Bihar government.
RTPS Service Plus is now available in Bihar. People can now track Application Status. This is using the website ServiceOnline.Bihar.Gov.In. People can also check application Status and RTPS Certificate Print here. Service Plus is a Joint initiative of Govt of Center and Bihar. Its main objective is to provide public services. Their motive is also to ensure the fastest service. RTPS Service Plus Bihar is an online website. This website is created by Govt. of Bihar. The official website of RTPS Service Plus Bihar is serviceonline.bihar.gov.in. The site is designed for various online work under a single portal. the link  provided  source of RTPS Bihar Online Apply Status Certificate Print Serviceonline and thank you for reading this article.
People can register into the portal to access all the services offered by the Bihar government. such as Income certificate, caste, land, obc and many more.
Online RTPS Bihar Online Certificate system help millions of students to get their certificate online for various purpose, for example, applying for jobs, college admission, and many more.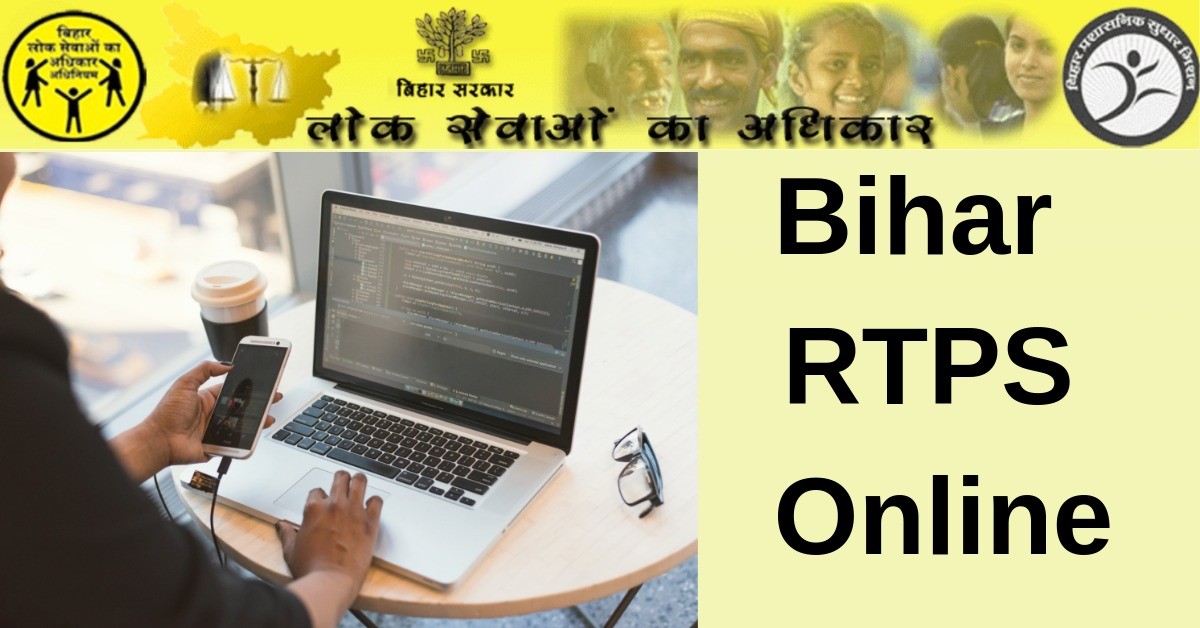 The RTPS Bihar project is being executed in Bihar by the Department of Information Technology (DIT), Govt. of Bihar through ServicePlus, a configurable e-Service delivery and grievance redressal software framework of National Informatics Centre (NIC), Govt. of India. 
Through RTPS Bihar services millions of people of Bihar have availed the Bihar online certificate services. Earlier people have to give more time to get their Caste Certificate, Income Certificate, OBC certificate and many more.
Latest Update – Lockdown ke karan service abhi band hai aap baad me try krke apna bana sakte hai
What is Bihar RTPS Service Plus?
RTPS service plus is a configurable, unified framework for service delivery and grievance redressal. It also facilitates the rapid rollout of any service, any time by any level of state government. Generally, Caste, Income & residence certificates need at the time of receiving money from state & central government's scheme & scholarship. Finally, People can get access to information about any service any scheme provided by the Bihar government.RTPS service plus manage and maintain all enclosures/documents in the online repository and use them across all services. Using the service, plus people can also track their application status. the links provided source of Bihar RTPS Service Plus Online Apply (आय, जाति, निवासी) Status ⋆ FYJC and thank you for reading this article.
RTPS Caste Certificate (Jaati Praman Patra)
In India as well as in Bihar reservation system. If anyone comes from a reservation category, then they will get some benefits in Govt jobs, Schemes, etc. For this, they have to show their caste certificate for getting benefits. To make Jaati Praman Patra people have to visit RTPS service plus official website. the link given from the source of Bihar RTPS Service Plus Online Apply (आय, जाति, निवासी) Status ⋆ FYJC and thank you for reading this article.
Services Provided at Bihar RTPS Portal
The Bihar RTPS portal is meant to deliver numerous services to the state government.
| | |
| --- | --- |
| Name Of Portal | Bihar RTPS Portal |
| Process Time | 10-15th Days |
| Application Mode | Online and Offline |
| Official Website | Click Here |
Certificate Services include:
Income Certificate (aay praman patra) आय प्रमाण पत्र
Local Residence Certificate (Awasiya praman patra)
Character certificate (Charitra praman patra) चरित्र प्रमाण पत्र
OBC certificate
Land Possession certificate (LPC)
Tatkal Services for Residential, Caste And Income Certificates.
Certificate Processing Time
The requested certificates in RTPS Bihar will be issued within 10 to 15 days from the date of application.
बिहार ऑनलाइन सर्टिफिकेट
बिहार जाती आवासीय फॉर्म ऑनलाइन बिहार के वेबसाइट पर कर सकते है, आपको जाती आवासीय 10 से 15 दिन में मिल जयेगा! अगर आपको जल्दी चाहिए तो तत्काल का आप्शन है आप इस्तेमाल कर सकते है  
How To RTPS Bihar Online Application Process
 Follow the steps given here. Here we have simple given steps provided.
Step1:  The applicant must visit the Bihar RTPS to avail of all the government services.
Step2: Candidate has to log in and enter the id, password and enter the captcha and then you need to click on the "Submit" button.
Step3: Now candidate is eligible to request and apply for any services which are available at the web portal.
Step4: the candidate has to click on the "Apply Online" option on the home page.
Step5: After that, the candidate must agree to the Terms and Conditions as displayed and proceed further to the next page.
Step6: Now the candidate has to choose the place where you would like to get the certificate.
Step7: candidate needs to enter their name(Hindi and English both). Then the candidate must select the required certificate and then enter their mobile number.
Step8:  After clicking on the "Next" button, the candidate will be getting a verification code to their mobile.
Step9: Then the candidate must enter the verification code after that candidate will be redirected to the page where they need to fill all the mandatory details like payment method, number etc.
Step10: Upon completion of the requested details in the application form, the user will be directed to the payment page where multiple online payment modes are available including Net Banking, Debit/ Credit Card Payment.
Step11: After filling the application form, the candidate will receive the RTPS Online application ID as an acknowledgment for your reference.
If You have any problem regarding any certificate online in Bihar through rtps comment below.
FAQs of RTPS
1.मेरा मोबाइल No आधार से लिंक नहीं है कैसे करे आवेदन ?
आधार से लिंक होना अनिवार्य है वरना नहीं कर सकते Bihar certificate online आवेदन.
2.How to Check Application Status? 
It can be checked online through this link Check by application ID.
3.क्या आवेदन का रसीद दोबारा प्रिंट करसकते है?
है हम करसकते है RTPS वेबसाइट पे application ID द्वारा.
4.मेरा RTPS Online  फॉर्म सबमिट नहीं होरा रा डिटेल डालने के बाद?
सर्वर प्रॉब्लम हो सकता है थोड़ी देर बाद तरय करे.
5.What Is RTPS?
RTPS Is Online portal of Bihar, Where you can online Income Certificate, Caste Certificate, OBC Certificate And much more available on the official website.
6.How Much Taken Time to get the certificate?
RTPS Online portal time taken total 7 working days.
7.Where To Collect Certificate?
You Need to Visit your block where you will find center of RTPS (जाती अवासिये ). show your reference number and collect it.
8.What Is Application Fee OF RTPS Online Bihar?
Application Is Free, No Need to Pay any amount.
9.जाती प्रमाण पत्र कैसे बनाये?
जाती प्रमाण पत्र बनाने के तरीके हमने इस पोस्ट में लिख दिए है आप पूरा स्टेप फॉलो करके बना सकते है
10.Bihar Income Certificate Kaise banaye?
Bihar Income Certificate banane ke liye sabse pahle rtps bihar portal pr jaye wahan steps follow krke bana sakte hai, adhik janakri ke liye ye post shahi se padhe.
11.How To Jati Online In Bihar 2019?
You Can Jati Online In Bihar from the official website of rtps. You need to follow all the steps.