NTSE Exam Pattern – National Talent Search Exam Pattern For Scholarship
NTSE (National Talent Search Exam)  exam date for Telangana State has been declared by the Directorate of Government Examinations, Telangana, Hyderabad check here the latest NTSE Exam Pattern. This is Under the supervision of NCERT Delhi, the NTS exam is done every year in two phases. After clearing both stages, 2000 candidates are selected for a monthly scholarship. Candidates in the state who are studying X Standard in any of the recognized schools or NMMS scholar can write the examination on 3 November 2020.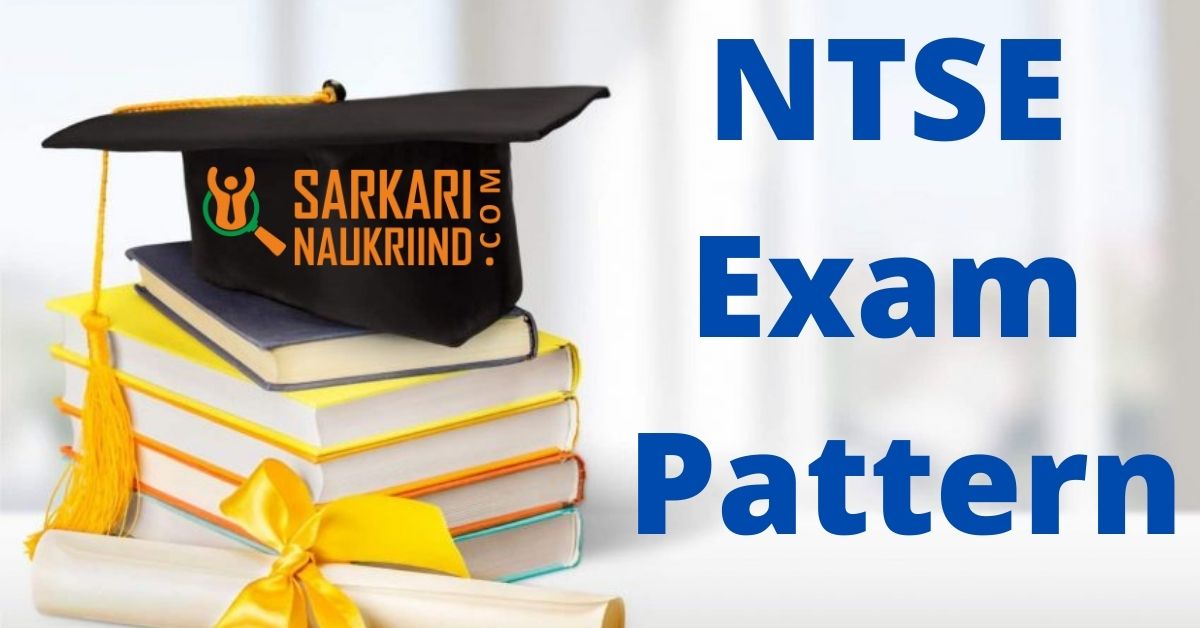 IMPORTANT NOTE: There is no Offline Application process for the Exam. Please fill it online by under given Link provided in this article.
NTSE Exam Pattern
Please have a look at this pattern. Here in this table we have given all the details of NTSE 2020.
Paper
Test name
Maximum Marks
No of Questions
Duration
(in minutes)
Timings of Exam
I
Mental Ability Test (MAT)
100
100
120
Morning Session: 9.30AM to 11.30AM
II
Scholastic Aptitude Test (SAT)
100
100
120
Evening Session: 01.30PM to 03.30PM
NTSE Scholarship Pattern
All 2000 selected candidates will get a monthly scholarship which has been decided by NCERT, Delhi. The Scholarships are as follows-
For Intermediate students (11th and 12th) – Rs. 1250 per Month.
For Under Graduation & Post Graduation Students – Rs. 2000 per Month.
For Ph.D. students – As per UGC Norms
NTSE Eligibility
All the candidates currently studying in class 10th from any recognized school under Odisha State Education Board, although there is no domicile restriction. Candidates must have a minimum of 60% (for General) & 55% (for SC, ST and PH categories) in class 9th. The minimum age decided by the State Board to come in this exam is restricted to 18 years only (as on 1st July 2020).You should go thoroughly to the NTSE Eligiblity criteria.
NTSE 2020 Dates
Check the table here. Here we have all the important dates.
| | | |
| --- | --- | --- |
| 1. | Last date for remittance of Examination fee in the shape of Challan | 28-08-2020 |
| 2. | Last date for registered of Applications online | 29-08-2020 |
| 3. | Last date for submission of printed copy of online registered Application Form | 30-08-2020 |
| 4. | Last date for submission of Printed Application forms of NTSE 2020 | 31-08-2020 |
| 5. | NTSE Stage-1 Exam date | 03-11-2020 |
Also read – PM Scholarship 2020 – PMSS Scholarship, Eligibility, Process, Full Details
NTSE Exam Pattern
NTSE Exam Pattern 2020 Notification is here.  The state-level National Talent Search (first level) Examination 2020 Notifications would be issued every year by the office of the Director of Government Examinations, Telangana State in July 2020. The State Level National Talent Search 1st level Examination for 10th class students will be done on 03-11-2020 from 11.00 AM to 12.00 PM and Second session from 2.00 PM to 4.00 PM in Telugu/ Hindi/ Urdu and English media at all the head department of 31 Districts in the State. Check the table here to know more about NTSE Pattern 2020.
Paper
Test
Timings
No. of Questions
No. of Marks
Time Duration
Paper-1
Mental Ability Test (MAT)
09.30 am to 11.30 am
09.30 am to 12.00 noon
100
100
120 Minutes
Paper-2
Scholastic Aptitude Test (SAT)
13.30 pm to 15.30 pm
13.30 pm to 16.00 pm
100 (Science-40, Mathematics-20, Social Science-40)
100
120 Minutes
Who Can Apply NTSE
The candidates who are studying 10th class in the current academic year 2020 in any recognized school in Telangana state including KVS & schools affiliated to ICSE & CBSE. Only they can apply. Rs100/- per candidate should be paid through challan at any Treasury branch.
Guidelines
Application form should be done online in Board of Secondary Education(TS) website which is given in
One lakh scholarships @ Rs.12000/- per annum (Rs.1000/- per month) are awarded to students. Selected students of class IX every year and their continuation/renewal in classes X to XII for study in State Government, Government-funded, and Local body schools under the scheme. Look down for more details about NTSE Exam Pattern.
How To Apply NTSE
The application form of NTSE 2020 should be done online in this office web site `httollbse.telangana.gov.in' as it's in the user guide.
A printed copy of online registered Application Forms along with original Challan, copies of caste certificates declare by MRO concerned, and medical certificates by the Medical Board of concerned District
If there are students of SC/ST/OBC/P1-IC and two copies of a print of report (i.e. nominal roll) should be submitted in the Office of concerned District Educational Officer only.
In the case of SC/ST/OBC/PHC students, caste and medical certificates should be along with the application at the time of registration online.
If there are OBC candidates. those who are in the central list of OBCs (state-wise) accessible in the web site ]tttp://www.nebc.nic.in/user/panellcentralliststateview.aspx subject to the income limit notified by the Government should Furnish caste and non-creamy layer certificates for OBC reservation. Otherwise, they will be as general candidates.
The following are the dates that are due for remittance of Examination fee, registration of applications, submission of printed applications, original challans, and printed NR.
Telangana NTSE Result 2020
The result for Telangana NTSE Stage 1 has released at the state level. This is done by the Directorate of Government Examinations (DGE), Telangana. students can get the result of Telangana NTSE Stage 1 online. Which can be from the official website i.e bse.telangana.gov.in. Along with Telangana NTSE, I Stage Result, DGE Telangana also declares Stage 1 Cut off. students who qualify the Telangana NTSE Stage 1 are eligible to take part in the NTSE Stage 2 Exam. To know more details about Telangana NTSE Result 2020 Stage 1 dates, cut off, etc, go through this content.
NTSE Application Form 2020
NTSE Application Form 2020: SCERT has released the National Talent Search Examination NTSC form 2020 for 10th Class students on their official websites http://www.ncert.nic.in. So, students can get scholarships of rupees 1250 per month for classes 11 and 12th, and, rupees 2000 for UG & PG, and will get a fixed amount of scholarship for P.hd Students according to UGC norms.
We will soon update. Do comment your doubts in the comment section.