NIOS 2018 Examination Registration for April.
NIOS 2018 Examination Registration
NIOS 2018 Exam online registration has started from 21th of november to 20th December 2017 without late fees. NIOS 2018 exam fee is 250/- per subject & Rs. additioanl fee of Rs.120/- per subject involving practicals.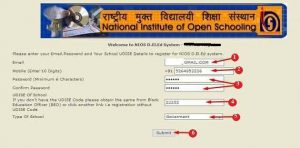 NIOS 2018 Exam online registration with late fine is allowed from 21th December 2017 to 1st January 2018. Even if you fail this deadline student can register from 2nd January to 10 January 2018 with consolidated late fee of Rs.1500 through online Credit/debitcard or the form along with BD can be deposited at NIOS Regional Centre only.
After successfully NIOS 2018 Exam online registration students will get there admit card for the examination in the month of March 2018. Below are the usefull links that can be use to downlod the Model Test Papers for NIOS 2018 Examination.
For any further updates regarding NIOS 2018 Examination please visit : http://www.sarkarinaukriind.com