Inspire Scholarship 2020 – Inspire Application Process, Eligibility Last Date
Inspire scholarship 2020-20 offers 10,000 scholarships every year to Rs. Eighty thousand to candidates from age 17-22 years, for pursuing Bachelors's and Masters's level education in Basic and Natural Science.
The Online application will start from 1st of November 2020 at 10 AM, and the last date of application is 31st of December 2020. The application will be accepted in online mode only on the official website online-inspire.gov.in.
Inspire Scholarship was started by the Department of Science and Technology (DST), Government of India, in November 2008. INSPIRE has three-parts – Scheme for Early Attraction of Talents (SEATS), Scholarship for Higher Education (SHE) and Assured Opportunities for Research Careers (AORC).

The main aim of the Scholarship is to enhance rates of youth to undertake higher education in science by providing scholarships and mentorship.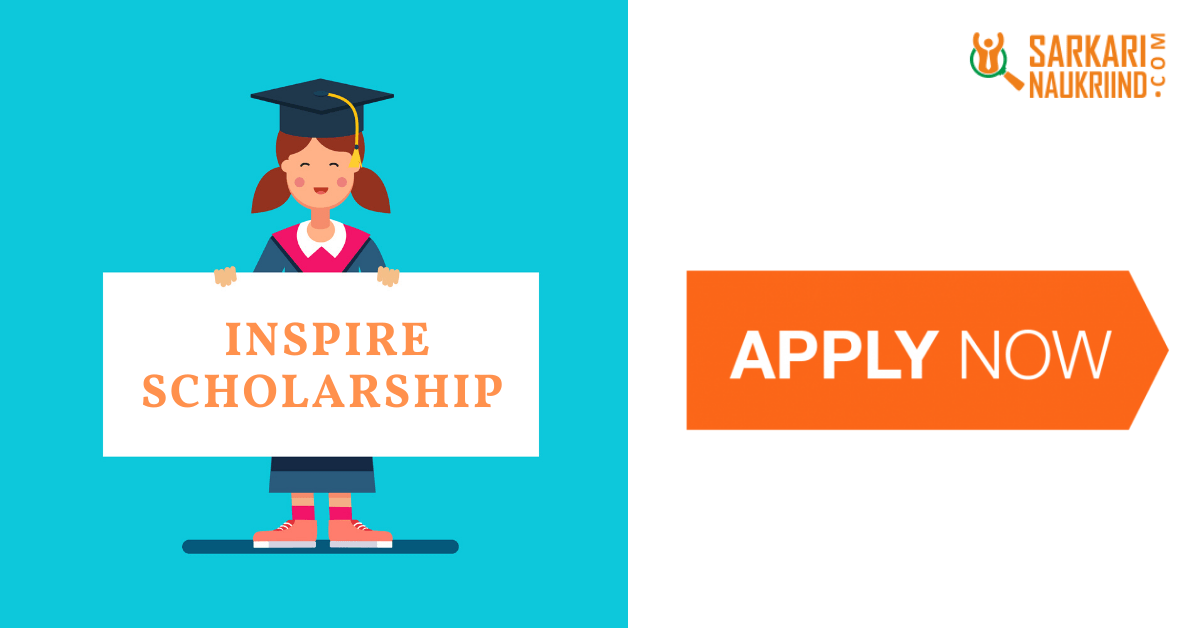 Inspire Scholarship 2020
Inspire 2020-20 offers 10,000 scholarships every year to Rs. 80,000 to candidates from age 17-22 years, for pursuing Bachelors's and Masters's level education in Basic and Natural Science.
There is no exam conducted for the candidates who want to take the scholarship, and it based on the eligibility criteria of the candidates.

Interested candidates can apply online on the official website. Candidate should note that the selected candidate will receive a scholarship of Rs. 5,000 per month, which in total will be Rs. 60,000 in a year.
All the scholars who have taken scholarships need to undertake a summer research project under an active researcher in any identified research centres in India.

The scholarship will give a summer attachment fee of Rs. 20,000 to the scholars for the mentorship every year. Candidates need to submit the project report and certificate after the completion of the project within the due course of time to the mentor.
Inspire Scholarship 2020 Important Details
Candidates who are willing to take scholarship can check the table below for more details related to it –
| | |
| --- | --- |
| EVENTS |  DETAILS |
| Name of the Scholarship | INSPIRE (Innovation in Science Pursuit for Inspired Research) |
| Department of Scholarship | Department of Science and Technology (DST) |
| Total number of scholarship | 10,000 every year |
| Post category | Admission |
| Application mode | Online mode |
| Official Website | http://www.inspire-dst.gov.in/ |
Inspire Scholarship 2020 Important Dates
Candidates who will take scholarships can follow the below table for important dates related to it.
| | |
| --- | --- |
|  EVENTS |  DATES |
|  Application form Availability | 15 October 2020. |
|  Online Application Starts | 1st of November 2020  at 10 AM |
| Last Date to apply | 31st of  December 2020 up to 5 PM |
| Inspire Scholarship Result | May 2020 |
Scholarship 2020 Inspire Selection Process
Inspire Scholarship selection procedure will be started by the Department of Science and Technology (DST) at least four months after the last date of application submission.
The selected candidates will receive a provisional offer letter on the official web informing them that they have selected for Inspire Scholarship.

Candidates will have to upload their required documents on the website within the given period for further procedures. Candidates should note that all selected candidates will receive an Email notification informing that they selected for the Inspire scholarship. To download Scholarship Offer Letter, selected candidates should log in to the online website to download the offer letter.
Inspire Scholarship 2020 Eligibility
Candidates who willing to apply for Inspire Scholarship 2020-20 must check the eligibility criteria to check whether they are eligible or not for the scholarship. Below are the important points: 
 Candidates who are among the top 1% in class 12 at their respective board examinations and are pursuing courses in Natural and Basic Sciences at the BSc or Integrated MSc levels are eligible for the scholarships.

Candidates should have passed class 12 from any recognized state or central Board in India.

 The student must be pursuing three years B.Sc., B.Sc (Hons), four years B.S or five years integrated M.Sc./M.S programs in any UGC recognized College or University or Institutions in India in natural and basic sciences and must be in the top 1% of the Board or have achieved a High Rank in National Entrance Exam Top 1% in Board Exams.

 Candidates who have scored in the Joint Entrance Examination and have also study Natural and Basic sciences in any institute or university leading to graduate and post-graduate degrees are eligible.
Scholarship 2020 Affiliated Subjects
Inspire Scholarship affiliated subjects under Basic and Natural Sciences are listed below. Candidates can check the subjects name from the list mentioned below-
Physics
Botany
Chemistry
Zoology
Mathematics
Biochemistry
Biology
Anthropology,
Statistics
Microbiology
Geology
Geophysics
Astrophysics
Geochemistry
Astronomy
Atmospheric
Sciences
Electronics
Oceanic Sciences
Inspire Scholarship 2020 Application form
The Scholarship application form is available on the official website. The last date for submission of the Scholarship is December 2020.
The filled-in application form of Scholarship will be submitted in online mode only. Candidates are not allowed to send the filled Inspire application form or any document through the post.
Before the final submission of the application form, candidates need to verify all the full details carefully, as the corrections will not allow after that.
How to Apply for Inspire Scholarship 2020
Below are the steps of how to apply for the Scholarship 2020 application form given below. Candidates can check the steps from below-
 Firstly candidates need to do the online registration of Inspire Scholarship on 

Click Here

.

Then candidates need to upload their documents in the Inspire online application form

 After filling the form, candidates need to recheck all the filled details.

 After checking candidates need to submit the Application form.
Candidate should note that they should only send one application form and should make sure that the application form is correctly filled.
Before proceeding further with the online application process for Scholarship, the student should keep the scanned copy of the following documents ready.
Document To Be Uploaded For Scholarship
Passport Size Photograph of the candidate (mandatory).
Caste Certificate of the candidate only if they belong to OBC /SC /ST category.
Eligibility Note or Advisory note provided by the State/Central Board.
Class 10 Mark sheet of the candidate for their Date of Birth proof.
Class 12 Mark Sheet.
Certificate specifying Rank or Award in Joint Entrance Examination (Main) or Joint Entrance Examination. (Advanced) or in any International Olympic Medalists.
Endorsement Form (mandatory).
Inspire Scholarship 2020 Cutoff
The Inspire Scholarship will given to those candidates only who will come in the top 1% in their class 12. The cut off is minimum qualifying marks obtained by the candidates to qualify for the exam. So the candidates need to score good marks in the exam to take a scholarship.
Inspire scholarship cut off 2020 will be released by the Department of Science and Technology (DST). Given below is the previous year cut off list, candidates can check the list from the table below and can prepare themselves according to it.
| | |
| --- | --- |
| NAME OF THE BOARD | INSPIRE  SCHOLARSHIP CUT OFF MARKS |
| Andhra Pradesh | 98.10% |
| Assam | 84.20% |
| Bihar | 73.60% |
| Chhattisgarh | 89.20% |
| Goa | 86.50% |
| Gujarat | 78.00% |
| Haryana | 93.40% |
| Himachal Pradesh | 90.80% |
| Jammu Kashmir | 92.40% |
| Jharkhand | 80.00% |
| Karnataka | 94.17% |
| Kerala | 97.92% |
| Madhya Pradesh | 89.80% |
| Maharashtra | 86.00% |
| Manipur | 85.60% |
| Meghalaya | 72.40% |
| Mizoram | 74.00% |
| Nagaland | 79.00% |
| Odhisa | 84.33% |
| Punjab | 91.33% |
| Rajasthan | 88.60% |
| Tamil Nadu | 95.08% |
| Tripura | 89.60% |
| Telangana | 98.50% |
| Uttar Pradesh | 83.80% |
| Uttarkhand | 85.20% |
| West Bengal | 88.20% |
| CBSE | 95.20% |
| ICSE | 96.33% |
| AMU | 94.40% |
| Vishwa Bharati | 94.00% |