Indian Oil Corporation Limited Recruitment For Diploma | B.Tech | ITI 380 Post
Indian Oil Corporation Limited Recruitment: IOCL released recruitment notification for 380 posts through advertisement no PL/HR/ESTB/APPR/2019 dated 31.10.2019. Interested candidates those are completed their diploma ITI and B.Tech all are eligible for this Government Job.
The online job application will start from the 4th of November 2019 and the last date for the application is 22nd of November 2019. Interested candidates are suggested to read the official notification given below.
Selection of candidates is based on written test, group discussion and interview round.
Candidates who are willing to apply for the recruitment required to check the eligibility criteria which is direct by IOCL. Eligible candidates
can apply online through the official website of IOCL www.iocl.com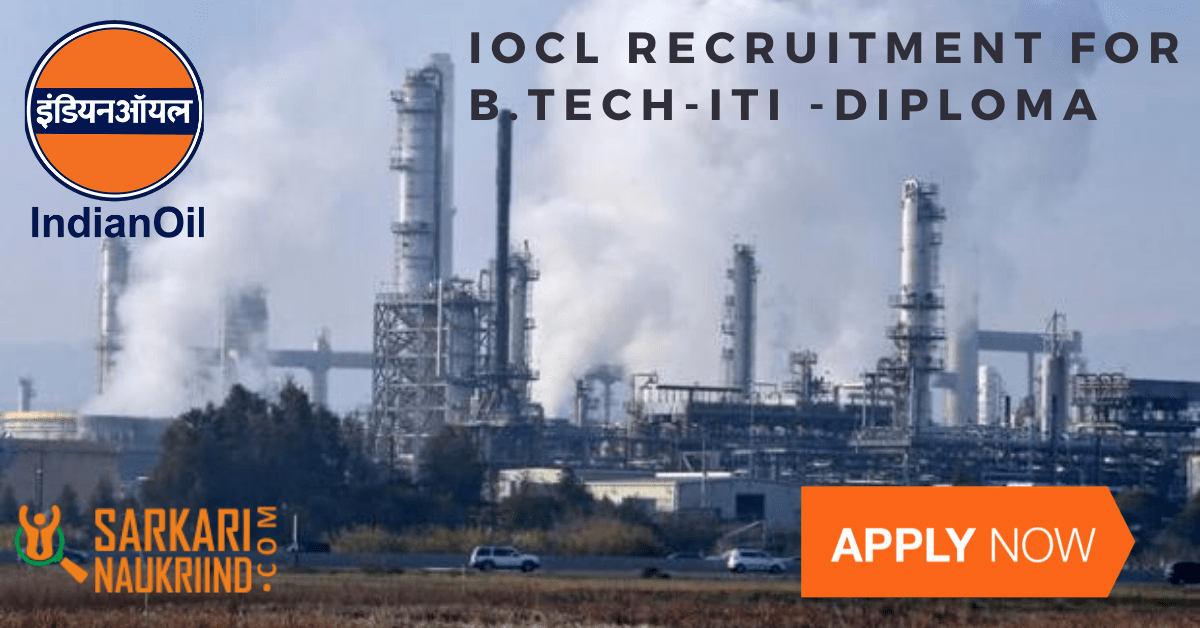 Indian Oil Corporation Limited Recruitment 2019-20
IOCL Recruitment 2019-20:  Candidates can apply online for 380 Apprentice Vacancies in IOCL Recruitment 2019-20 all across India. New Government Jobs 2019-20 notification is published for the post of a tutor, Assistant Professor, Associate Professor. IOCL Notification has 131 Vacancies for the post of Accountant/ Technician/ Trade Apprentices.
Candidates are shortlisted on the base of their performance in written tests and then they are called for group discussion/group task and interview. The final selection is done through the candidate's overall performance in all the tests and interviews.
IOCL admits officers at the junior-most level of the management ranking  (A-Grade).  Candidates of first division degree and candidates who have done post-graduates from appropriate disciplines are recruited as engineer and management trainees, accounts officers, medical officers, law officers, systems officers, scientists, etc.
IOCL hires candidates through campus recruitment also. It also recruits Chartered Accountants from various centers of the Institute of Chartered Accountants of India (ICAI).
Indian Oil Corporation Limited Recruitment 2019 Important Dates
IOCL  Important Dates




Commencement of on-line registration of application

04-Nov-2019 06:00:00 PM

Closure of registration of application

22-Nov-2019 06:00:00 PM

Closure for final submission of application

22-Nov-2019 06:00:00 PM

Date of reckoning eligibility criteria

31-Oct-2019

Tentative date of downloading online admit card

29-Nov-2019 10:00:00 AM-08-Dec-2019 12:00:00 PM

Tentative date of exam

08-Dec-2019
IOCL Recruitment 2019 Vacancies and Posts
Candidates who are interested in IOCL recruitment can refer to the below-given table in order to know about the IOCL recruitment vacancies. Each vacancy has a different Recruitment eligibility criteria, salary and age criteria which are discussed below-
Post

No. of vacancy

Eligibility Criteria

Salary (approx.)

Age Limit

Junior Engineering Assistant-IV (Production)
123 post
Diploma/ B.Sc./ GATE
INR 11900/-32000/- per month
18 years- 26 years
Junior. Engineering Assistant-IV (Electrical)
28  post
Junior. Engineering Assistant-IV (Mechanical-Pump & Compressors)
16 post
Junior. Engineering Assistant-IV (Instrumentation)
1 post
Trade Apprentice (Refineries Division, Barauni Refinery)
21 post
3 years Full-time B.Sc/ Matric with 2-year ITI (Fitter)/ GATE
INR 7530/ -per month
18 years – 24 years
Technician Apprentice (Refineries Division, Barauni Refinery)
25  post
Trade Apprentices/ Attendant Operator (Paradip Refinery)
18 post
B.Sc. (Physics, Maths, Chemistry/ Industrial Chemistry)/ Diploma/ GATE
INR 7530/- per month
18 years – 26 years
Technician Apprentice (Paradip Refinery)
16 post
Consultants (Geologists, Geophysicist, Reservoir Engineer)
4 post
Graduate/ Post-Graduate/ GATE
Negotiable
Maximum age should be 65 years
Graduate Engineer
–
Graduation/ GATE
INR 24,000/- per month
Maximum age should be 26 years
IOCL Vacancy Detail State Wise
Below is the state-wise vacancy detail and it will help the candidate to choose before apply
IOCL Vacancy Detail State Wise

Sl No
State Name
No of Posts
01
Gujarat
80
02
Rajasthan
35
03
West Bengal
39
04
Bihar
26
05
Assam
23
06
Uttar Pradesh
12
07
Odisha
39
08
Chhattisgarh
08
09
Jharkhand
03
10
Haryana
36
11
Punjab
17
12
Delhi
16
13
Uttar Pradesh
18
14
Uttrakhand
03
15
Tamil Nadu
19
16
Karnataka
03
17
Andhra Pradesh
03
IOCL Recruitment 2019 Eligibility