IDBI Bank Jobs: IDBI Bank is release vacancy for 600 Assistant Manager Posts for Indian bachelor Degree holder. was established in 1964 by an Act to provide credit and other financial facilities for the development of the fledgling Indian industry.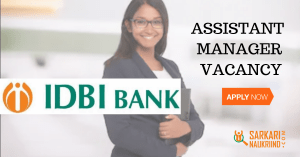 IDBI Bank Jobs  Details
IDBI recently released an advertisement regarding Assistant Manager recruitment 2019, this vacancy is for across India. The last date for application submission is 03-07-2019 and any graduate can apply.
Category Wise Vacancy Details
| | |
| --- | --- |
| CATEGORIES | NO. POST |
| General | 273 Posts |
| SC | 90 Posts |
| ST | 45 Post |
| OBC | 162 Posts |
| EWS | 30 Posts |
| TOTAL | 600 |
IDBI June 2019 Official Notification.
IDBI Bank Jobs Eligibility Criteria
Cut off date: June 01, 2019
Applicant must be either (i) a citizen of India, or (ii) a subject of Nepal, or (iii) a subject of
Bhutan, or (iv) a Tibetan refugee (who came over to India before 1st January 1962) with
the intention of permanently settling in India.
Candidates are expected to have proficiency in computers.
Candidates should be Graduate from any discipline from a recognized university.
Those who are in the final year of their Graduation/ Semester may also apply provisionally
subject to the condition that, if called for interview, they will have to produce proof of
having passed the graduation examination on or before 01.06.2019.
IDBI Bank Jobs Age Limit and Relaxation
Minimum: 21 years Maximum: 28 years i.e. a candidate must have been born not earlier
than 02.06.1991 and not later than 01.06.1998 (both dates inclusive). As on 01.06.2019.
Upper Age Relaxation
| | |
| --- | --- |
| Category | Age Relaxation |
| Scheduled Caste/Scheduled Tribe | 5 Year |
| Other Backward Classes (Non-Creamy Layer) | 3 years |
| Persons With Disabilities | 10 years |
| Ex-Servicemen, Commissioned Officers including Emergency Commissioned Officers (ECOs)/ Short Service Commissioned Officers  (SSCOs) who have rendered at least 5 years military service and have been released on completion of assignment (including those whose assignment is due to be completed within one year from the last date of | 5 years |
IDBI Bank Jobs Important Dates.
Activity
Dates
Opening and closing of Payment Gateway
23.06.2019 to 03.07.2019
Opening and closing of gateway for
submission of online application
23.06.2019 to 03.07.2019
Date of Online (Tentatively) Test at all centers
21.07.2019
Admit Card
13 July 2019 onwards
IDBI Bank Jobs Application Fee
Genera l/ OBC – Rs. 700/-
SC/ST/PH – Rs. 150/-
IDBI Bank Jobs Educational Qualifications
Candidates need to have a Bachelor Degree in any discipline from any recognized university.
All semester wise or year wise individual mark sheets
All mark sheets pertaining to improvement in the marks [i.e. if the candidates have made more than one attempt to obtain a pass or improve marks of any subject in any of the semester(s) or year(s)]
Degree or provisional pass certificate.
How to Apply For IDBI Bank Jobs
Candidates to visit IDBI Bank's website www.idbibank.in and click on the "CAREERS" to open the link "Admissions to Manipal School of Banking2019-20" and then click on the option "APPLY ONLINE" which will open a new screen.
To register application, choose the button of "Registration", present on the right
hand side top of the screen.
On clicking the "Registration" the user will be redirected to "Basic
Registration" page.
Enter you basic details and Mobile No. beside Mobile No. field there will be a
button for Send OTP. Click on Send OTP, clicking which an OTP will be sent
to the mobile number entered by you. Enter the OTP as received via SMS in
the Enter OTP field and click on Verify OTP button for Mobile Number
Verification.
A Registration Number and Password will be generated by the system and displayed on the screen. Candidate should note down the Registration Number and Password. An Email & SMS indicating the Registration number and Password will also be sent.
Log in with the Registration Number and Password provided by the system and fill the details registration form.
On first login system will force the user to change the password, i.e. change the system generated a password to set your own new password.
 Once change password is done user needs to read through the instructions displayed on the home page after login. At the end of instructions, there will be undertaking as "I have fully read and understood the notification/advertisement and instructions for online application of Direct Recruitment for the post of Assistant Manager before filling the application form and I hereby accept all the rules and norms prescribed for the same." which user needs to undertake by clicking the undertaking checkbox and click on Continue button to proceed to the detailed registration form.
 Detailed Registration Form is divided into following pages/ tabs / sections:
a. Personal Details
b. Education & Experience Details.
c. Photo Upload
d. Signature Upload
e. Preview
10. In case the candidate is unable to complete the detailed registration form in one go, he/she can save the data page wise and come back and enter the details in remaining pages or modify in already filled pages.
11.  The Name of the candidate or his /her Father/ Husband etc. should be spelt correctly in the application as it appears in the Certificates/ Mark sheets. Any change/alteration found may disqualify the candidature.
12. Candidates can proceed to upload Photo & Signature as per the specifications are given in the Guidelines for Scanning and Upload of Photograph and Signature detailed under point "C".
13. Prior to submission of the online application, candidates are advised to view all the details carefully on the Preview page, on the preview page, there will be Edit links to edit the entered details. Details provided can be edited until application form is submitted, once submitted application form cannot be modified.
14.  Photo & Signature uploaded by candidates will also be displayed on the preview page for verification. Photo and Signature can also be changed before the final submission.
15.  Visually Impaired candidates should fill the application form carefully and verify/ get the details verified to ensure that the same are correct prior to final submission.
16. Candidates are advised to carefully fill and verify the details filled in the online application themselves as no change will be possible/ entertained after clicking the Proceed to Pay button on the Preview page.
17.  Modify details, by clicking on Edit link if required, and click on 'Proceed to Pay' ONLY after verifying and ensuring that the photograph, signature uploaded and other details filled by you are correct.
18.  Click on "Proceed for Pay" on the preview page, on clicking "Proceed to Pay" a warning message will be shown to the candidate saying that "Please ensure that everything has been filled correctly, before proceeding to payment. The data entered can't be changed once I proceeded to payment. Hence, before proceeding further, the details already entered may be verified to ensure that they are correct. If entered details are  correct, kindly proceed to make an online payment towards application fees."
19. On confirming the final warning of application submission, the Payment page will be displayed which will      display the Application Fees to be paid by the candidate to submit the Application Form.
20.  An application will be considered submitted only if Application Fees against the application is paid successfully.
21. Click on the "Make Payment" button to proceed to select a payment method.
22. Payment would be done via, SBIePay.
23. After submitting your payment information in the online application form, PLEASE WAIT FOR THE         INTIMATION FROM THE SERVER. DO NOT PRESS BACK OR REFRESH BUTTON IN ORDER TO AVOID DOUBLE CHARGE. On successful completion of the transaction, an application form. The payment receipt will be generated. Application form & payment receipt will be available for download on Candidate Dashboard
24. Preserve the hard copy of the system generated online Application form and eReceipt for submission during the time of the personal interview, document verification & pre-recruitment medical test. The hard copy is not to be sent to the bank.
IDBI Bank Jobs Selection Process
The selection process will comprise of Online Test followed by personal interview of the candidates, who have qualified in the online test. The online test will be objective in nature. The details of the same are furnished hereunder
Name of the Test
No. Of Questions
Maximum Marks
Duration
Logical Reasoning, Data Analysis
& Interpretation
60
60
Composite
time of 2 hours
English Language
40
40
Quantitative Aptitude
40
40
General/Economy/Banking
Awareness
60
60