WHY GOVT JOBS IS MOST PREFERRED IN INDIA
GOVT JOBS: Recent news revealed that the Maharashtra Government has received more than 7.5 Lakh applications for Government Jobs with about 4,500 positions. By the number of applications, you can understand the craze of Govt Jobs.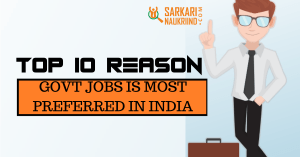 The craze for Government Jobs in the Indian Market rises every year as not only do class 10 and class 12 pass outs are eligible for 'Sarkari Naukri' but even professionals from other fields like MBA, CA, Engineering and most fresh graduates opt for it.
What may be the reason for Government Jobs being such a preference for Students and Young Professionals?
Here are some of the advantages of being a Government of India Employee:
Prestigious / Social Acceptability/ Marriage Proposals
The first and foremost attraction when it comes to opting for Government Jobs is the Social Acceptability which comes with it. Being a Government Employee comes with Prestige. Sarkari Employees can eventually hold powerful and influential positions in various Government Sectors.
Having a Government Job also increases the chance of being a good catch for Marriage Proposals. Indian Families would any day choose a guy who has a secure Government Job than someone who works in a Private Firm or runs his own Business.
Job Security
One of the Biggest Advantages of being a Government Employee is Guaranteed Monthly Salary. Private Companies, MNCs and Businesses have no guarantee. Big Companies often have to let go of their Employees as they are unable to pay off their Salaries. Not to mention, most paychecks come in late month after month.
Government Employees are given the first preference when it comes to clearing their salaries. With that Employees also get a fair chance at Salary Hikes and Promotions.
Pension Plans
After Government Employee retires, they do not need to worry about the rest of their Life. Government Jobs provides Life Long Pension Plans which is enough to support them. They don't have to look for other jobs or depend upon their children for financial support. This Retirement Policy is not available in any other kind of Job.
Less Workload
Government Employees have fixed timing. Private Companies only have a specific in time but no boundaries when it comes it overtime or even work beyond office hours. If a Government Job demands over time, the Employees are also compensated for it.
Private Sector Jobs also have a lot of external pressure from higher Management and Bosses, whereas in comparison to Corporate Stress, having a Government Job is way less stress-free.
Holidays – Public + National
A GOVT JOBS Employee has the benefit of enjoying more Holidays than the Traditional Private Sector Employees. They get to enjoy all the holidays in the Calendar as well as the Weekends. There is also a policy of paid leaves.
When it comes to Private Companies, the Workers minimum to no paid leave options. Most Companies have Saturday as a Working day and sometimes leaves can result in salary deductions.
Housing Facility
Depending upon the Designation or the Position of the GOVT JOBS Employee, they are eligible to get Housing Facilities in Government Quarters. And there is no Rent, it is completely free stay with the security of staying inside a well-compounded area.
Private Sector Employees have to sacrifice a chunk of their earning on Rent which keeps their Saving to the minimum. As for Government Employees, they can easily save up to INR 10,000 to INR 15,000 at least as rent.
Free Health Insurance
Medical Cost is climbing the ladders day by day. Private Hospitals have made a Business out of trading lives while Government Hospitals are crowded with more Patients than Beds.
As for a Government Employee, the Medical Facility for them and their family is secured. Their Jobs come with special health insurance facilities which seldom high range private firms can afford to provide for their Employees.
Free Allowances
GOVT JOBS not only gets paid their Monthly Compensation in terms of Salary but also get to make some extra. Sarkari Jobs come with allowances such as TA i.e. Travel Allowance, DA i.e. Dearness Allowance, and HRA i.e. House Rent Allowance.
Thus Government Job Employees are not affected by Inflation or Price Hike of Commodities; they are taken care of by the Government beforehand.
Competition & Fair Choice
Landing oneself a Government Job is no cake walk. A Candidate has to pass three to four levels of examinations from CBT to Interview Rounds to Physical Fitness Tests. Yes, there are reservations for SC/SC/OBC Candidates but that just makes the Competition more intense.
There is no referral that works for getting into a Government Job, it is purely on merit. The applicants exceed the number of vacancies by leaps and bounds, but once you're in…you're in.
Foreign Postings
Government Employees serving in IFS, UN Peace Force or the Embassy get A-Level treatment on Foreign Lands. They are posted in First World Countries. Some Sarkari Job Employees are also sent abroad for Training and Conferences.
For Government Jobs Vacancy Click Here.