GATE Syllabus 2020 Download All Subject Wise In PDF – GATE Enginearing Syllabus
GATE Syllabus – Every Year lakhs of engineering graduates gives GATE examination to get an admission for M tech courses or get the job into any PSUs. The GATE stands for Graduate Aptitude Test in Engineering. Here we give you full details about the GATE Syllabus 2020.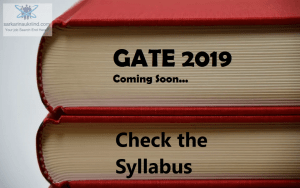 GATE Syllabus 2020 In PDF
GATE Syllabus For 2020 Is Available now. You Can easily read the syllabus. Before the examination, you must need to know what GATE Syllabus and how to prepares. Must-Have some plan to crake Exam and Achieve your dreams. We Embedded some important subject below scroll down and you can also easily read without downloading and left pages. If Any Subject We missed please leave comment surely we will add in List.
GATE 2020
The Graduate Aptitude Test in Engineering (GATE) is an All-India examination administered and conducted in eight zones across the country by the GATE Committee comprising of Faculty members from IISc, Bangalore and other seven IIT's on behalf of the National Coordinating Board, Department of Education, Ministry of Human Resources Development. The GATE score/rank is used for admissions to Post Graduate Programmes (ME, M.Tech, MS, direct Ph.D.) in institutes like IIT and IISc etc with financial assistance offered by MHRD. PSUs too use the GATE scores for recruiting candidates for various prestigious jobs with attractive remuneration.
GATE 2020 Dates
Important Dates for GATE 2020 mark your calendar if any changes please be with us we will notify you.
| | |
| --- | --- |
| Events | Dates |
| Availability of GATE Application Form | September 5 – October 9, 2018 |
| Last date for GATE Form Correction | October 28, 2018 |
| Last date for request for change in examination city | November 17, 2018 |
| GATE 2019 Admit Cards will be available from | January 4, 2019 |
| GATE 2019 Exam Dates | February 02, 03, 09 and 10, 2019 |
| GATE 2020 Results | March 16, 2019 |
GATE Eligibility
Bachelor's degree holders in Engineering/Technology/ Architecture (4 years after 10+2) and those who are in the final year of such programmes.
Bachelor's degree holders in Engineering/Technology/Architecture (Post-B.Sc./Post-Diploma) and those who are in the final year of such programmes.
Master's degree holders in any branch of Science/Mathematics/ Statistics/Computer Applications or equivalent and those who are in the final year of such programmes.
Candidates in the second or higher year of the Four-year Integrated Master's degree programme (Post-B.Sc.) in Engineering/Technology.
Candidates in the fourth or higher year of Five-year Integrated Master's degree programme or Dual Degree programme in Engineering/Technology.
Candidates with qualifications obtained through examinations conducted by professional societies recognized by UPSC/AICTE (e.g. AMIE by Institute of Engineers (India); AMICE by Institute of Civil Engineers (India) as equivalent to B.E./B.Tech. Those who have completed section A or equivalent of such professional courses are also eligible.
GATE 2020 Syllabus Subject Codes
In GATE examination, candidates can apply for only one of the 23 papers listed in the table given below. Candidates are expected to appear in a paper appropriate to the discipline of their qualifying degree. However, candidates are free to choose any paper according to their admission plan, keeping in mind the eligibility criteria of the institutions in which they wish to seek admission.
Subject
Code
Aerospace Engineering
AE
Agricultural Engineering
AG
Architecture and Planning
AR
Biotechnology
BT
Civil Engineering
CE
Chemical Engineering
CH
Computer Science &

Information Technology

CS
Chemistry
CY
Electronics and Communication

Engineering

EC
Electrical Engineering
EE
Engineering Sciences
XE
Petrolium Engineering
PE
Geology and Geophysics
GG
Instrumentation Engineering
IN
Life Sciences
XL
Mathematics
MA
Mechanical Engineering
ME
Mining Engineering
MN
Metallurgical Engineering
MT
Physics
PH
Production and Industrial Engineering
PI
Textile Engineering &Fiber Science
TF
Ecology and Evolution
EY
General Aptitude
This paper is common to all Subjects.
Verbal Ability: English grammar, sentence completion, verbal analogies, word groups, instructions, critical reasoning and verbal deduction.
Numerical Ability: Numerical computation, numerical estimation, numerical reasoning and data interpretation.
Aerospace Engineering
Agricultural Engineering
Architecture and Planning
Biotechnology
Civil Engineering
Computer Science and IT
GATE Syllabus: Chemistry
GATE Syllabus: Electronics & Communication Engineering
 Electrical Engineering
Enter Correct Details To Receive Fast Updates In Your Inbox.
Ecology & Evolution
Geology & Geophysics
Instrumentation Engineering
Mathematics
Mechanical Engineering
Mining Engineering
Metallurgical Engineering
Petroleum Engineering
Physics
Production Engineering
Textile Engineering
Zoology
GATE Syllabus: Food Technology