How to Get Free Job Alert on Mobile and Email – Latest Job Alert
Fee Job Alert – Looking to get free Government job alert on mobile and email.Looking for a job can be really tiring if you don't approach it in the most efficient way. With the advancement in technology and easy access to internet and smartphones, you can make the job search effortless and more efficient. Our Site Gives you latest information about Railway Group D Job , IBPS Recruitment
,IBPS Exam PAttern 2018 , RRB and Many More Jobs At SarKari Naukri IND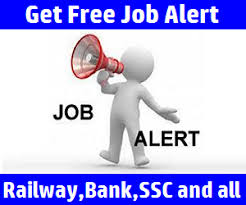 Here we made it immensely easy by giving you an option to sign up to get free job alerts.
Free Job Alert Without Giving Us Mobile Number and Email.
Yeah, You Heard right it easy to get free job alert on mobile without giving us mobile number and email address. We Integrate new system to send the notification to your mobile and laptop. Follow Below Step
  Click On Allow Option when you visit the site screenshot given below see
2 Or When you do not get upper like screenshot then click on bell icon which on show in the corner
3. After Doing Subscribes When New Vacancies, Update about Result we send Push Notification to your mobile
Yeah this is best free alert also fill form with Email adress and mobile number.
Here is the process where you can easily sign up for free jobs alerts of all kinds:
The Process For Free Job Alert:
Step 1: As the first step, you need to fill up form on the SarkariNAurkriIND that are created with the sole purpose of providing job alerts to people. For this, you need to have a personal email address. Fill Below Form With Your Real Name And Email Adress later we send job alert. We Will Never Spam your mail Box and Message Box Your Data is safe with the US
Step 2: Once you have a personal email address ready, you can fill out the information about your educational background and work experience.
Step 3: As the third step, you can choose the type of jobs you would be interested in so that the email and mobile alerts are tailored to your needs and expertise. Below  Fill Your Always Open mobile Number
Step 4: You can choose to get an alert about private as well as government jobs. They also send you email and mobile alerts for the last date of submission for applications.
Step 5: When you use your mobile number or email ID to sign up, you need to confirm them either by following a link or providing an OTP. As long as you follow the instructions, you won't face any issues.
Step 6: Be ready to get the alerts for your dream job!
These are some advantages that you can sign up for such alerts.
With free job alert, you need to signup with your email ID and your personal details to receive customized job alerts. They also send you updates on government jobs and their exam dates like Bank PO and other services.
Here, we have numerous option of a walk in, and you can quickly get an alert on your mobile phone when you sign up. So you can be ready for some quick walk-in interviews.
Since technological advancement has made everything easy, the smart choice would be to avail it entirely to reap its benefits. Therefore signing up for free job alerts can be a great idea to start your fruitful career.
Conclusion
To Get Fast Updates about goverment jobs or Latest Sarkari naukri subscribe our notification. If You have any issue please subscribe on youtube, Like Us On facebook.