COVID 19 E Pass Online – Corona Curfew Pass Application Online Statewise, E-Vahan Pass State Wise
COVID-19 E-Pass is here. How to apply for curfew pass data is here.  Corona कर्फ्यू पास क्या है.  As you all know that there is a lockdown in the world wide nation till 14 April. So COVID-19 E-Pass are given for essential need and emergency by the state government. As no one is allowed to come out from their home without reason.
But if you have some urgent work they can apply for Corona Curfew Online Pass. Working in essential services and want to go outside then for that, every state government has made a service of COVID-19 E-Pass or movement pass which you can get from the concerned authority of the state online.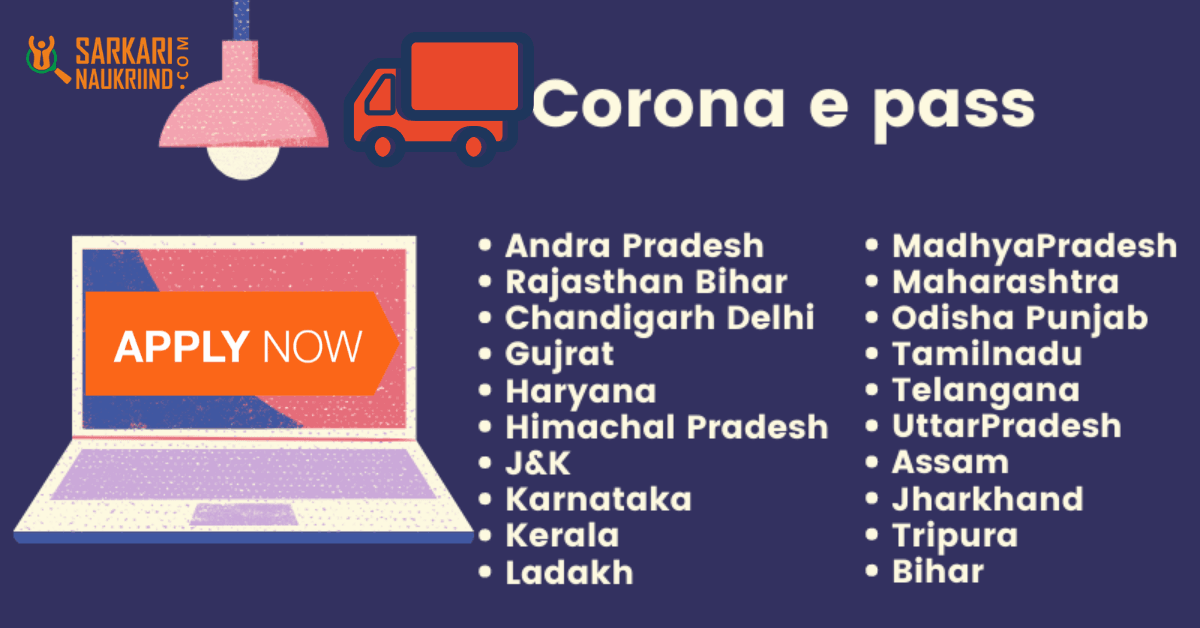 COVID-19 E-Pass कर्फ्यू पास- So, if you are one of them who had some urgent work and don't know about the curfew pass. Then this article is for you because in this we are going to talk about the curfew pass. And how you can get the same.  And what are the documents required for so let's check it below whether your state is providing you such facility in this tough situation or not?
Update – No Need of Pass to travel. So, removed all direct link.
COVID-19 E-Pass Online
Most things in the country have been completely close. This is due to the lockdown. But the people providing essential services and those working at some important places. They an exclude from it. The government has issued an e-pass for all those who have been given a little help in this lockdown. Through which he can go to his work as well as he can get out when needed. This is for which he must have an e-pass or ID card given by the company.
कर्फ्यू पास- दोस्तों जैसे की आप सब जानते ही है की आजकल देश में कोरोना वायरस ने दहशत का माहौल बना रखा है ऐसी स्थिति को देखते हुए प्रधानमंत्री मोदी जी ने 14 अप्रैल तक 21 दिनों के लिए पुरे भारत को लॉक डाउन कर दिया है. क्योंकि ये एक ऐसा वायरस है जो छूने से फैलता है. और इसी कारण आज देश में कई लोग कोरोना वायरस के शिकार हो गये है. लोगो की आवाजाही को रोका गया है. जिसे जनता कर्फ्यू भी कहा गया है. कर्फ्यू पास क्या है? और कौन-कौन से राज्य में कर्फ्यू पास हो रहे हैं? ये हम आपको अपने लेख के माध्यम से बता देते हैं.
Overview of Covid-19 Curfew E-Pass 2020 Details
Check the details here. Here in this table we have all the data. Check this out. Do have a look at this table.
Organization
Government of India (GOI)
Bhārat Sarkār
Name of Services
Curfew E- Pass
Facility
Movement of essential personal
Time Duration
21 Days
Category
Corona Curfew Online Pass
Status
Available Statewise link below
Official Website West Bengal
Click Here
COVID-19 E Pass
If you live in Delhi then you can apply for curfew pass. This is from the official website of the Delhi police the pass is also known as movement pass. But the pass will be given only to those who are connected with essential services or in case of some personal emergency.
List of essential services are:
These are the List of services provided. Check this out. This will help you out. Do have a look at this.
Police/paramilitary forces which are in Uniform
Govt. officials engaged in essential services
Health services
Fire brigade
Prisons staff
Fair price shop (ration dealers)
Electricity staff/water department
Municipal services
Print and electronic media
Services which are related to the legislative assembly
Provision store
Take away home delivery from restaurants
Chemist and pharmacist
Petrol pump
Animal fodder
Airport and airline staff
Staff of metro
Railway essential staff
What are the documents required for movement pass?
There are few documents which is required for the movement pass.  And applicant need to upload them on the website to get COVID 19 E Pass. Check this out. Do have a look.
Recent passport size photograph
Photo identification proof
Organization recommendation proof etc.
Government Id
Or and other Required Documents
Vehicle Registration Number (RC Book)
And other details
Curfew E- Pass Online State Wise Websites
Check the table here. This is for the Links. Do have a look here.
| | |
| --- | --- |
| State Name  | COVID-19 Pass Link |
| Delhi COVID-19 Pass | |
| Haryana curfew E-pass | |
| UP Curfew e-pass | |
| Madhya Pradesh | |
| Jharkhand lockdown e-pass | |
| Uttrakhand | |
| Assam | |
| Chandigarh | |
| Punjab | |
| Goa | |
| Himachal Pradesh | |
| Tamil Nadu | |
| Kerala | |
| Maharashtra | |
|  Bihar Lockdown curfew e-pass | |
Types of Movement Pass
There are two types of movement passes:
An individual having an urgency (like visiting doctor/buying essential items) they are eligible for COVID-19 Pass online.
For individuals engaged in the delivery of emergency/essential services. This is within and outside Delhi during the period of lockdown.
Frequently asked questions
1. Does Medical staff, hospital workers, doctors and nurses need corona COVID 19 E Pass?
No.
2. Are ATM and bank open during a lockdown?
Yes, all banks and ATM will be though out the COVID lockdown.
3. Do we need COVID-19 Lockdown pass for going to ATM and banks?
No.
How Can I apply for COVID-19 E-Pass?
You can visit the state-wise website given in this article. Which is to make your lockdown e-pass.
How need Lockdown e-pass?
Essential personal providing service and those in an emergency.
We will soon update. Do comment your doubts in the comment section.