CBSE Topper's Tips- How To Score 95% in CBSE Class 10
CBSE Topper's Tips: Class 10 is one of the first key milestones of every individual's life. Every student irrespective of their past performances wishes to score 90% marks in their CBSE class 10 examinations. Have you ever wondered why only a handful of students are able to score well above 95% in CBSE?
Class 10, when every student is studying the same book and receiving the same classes from school? That's because Topper's just don't study like every other student, they study strategically. Being a Topper in CBSE Class 10 is not a matter of Luck but a combination of Hard Work, Smart Work, and Consistency.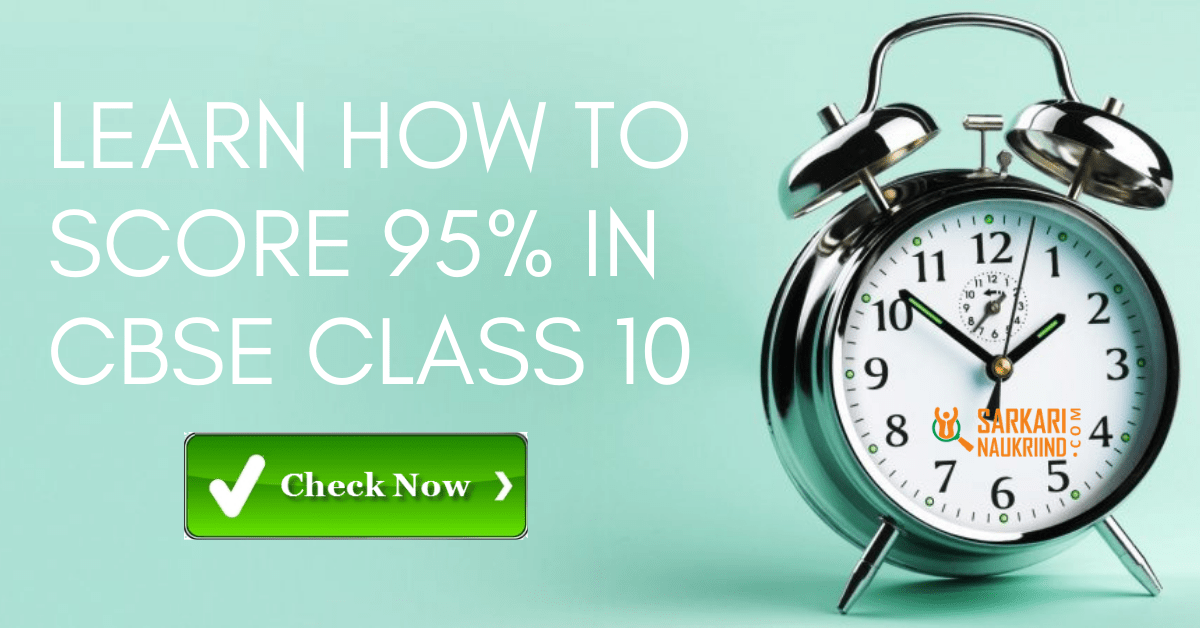 We at sarkarinaukriind.com  have studied the patterns of multiple CBSE Class 10 Toppers – their strategies, their Interviews and the advice they had to give to aspiring CBSE Toppers.   Below is a compiled list of 10 effective and easy to follow study strategies, which if followed properly will help you to score above 95% in CBSE Class 10 and it will also answer CBSE toppers aspirants question How to score 95% in CBSE Class 10.
1. Quality Over Quantity
There's something called Absent Minded and Present Minded. If you sit in a class or sit to study at home with a book, but your mind is not present then you're not exactly studying. Many Parents and Teachers force kids to study for long periods of time at a stretch, and kids just sit and stare at their books all through those 8 – 10 hours.
Toppers don't focus on the number of hours, but the number of topics they cover. They study for a comparatively short span of time 4 – 6 hours with a break but Focus on the Quality of Study. Long periods of study do not guarantee better marks. That's the result of Focused studying.
So if you aim to become a CBSE Class 10 Topper, spend your Time and Energy on the Quality of your Study, not the Quantity. Study for less than 8 – 10 hours, but when you sit with the book, make sure you have complete focus and attention.
2. Routine Study all year round
Are you one of those students who get hold of your school textbooks just a couple of months before the examination dates? If yes, then that needs to change. CBSE Class 10 Topper's are Toppers for a reason. They are the ones who do not wait for the last minute but stay prepared. I aim to score more than 95% on your CBSE
Class 10 examinations, then here's a secret ingredient: CONSISTENCY.
The best way to be Consistent with your Studies is to maintain a Study Routine. CBSE Class 10 Toppers have a fixed scheduled that helps them study strategically. Divide all the subjects and connect them with a certain day of the week. Just like your school time table.
But just do it in a more personalized manner best suited for you. Make separate study timetables for Weekdays and Weekends. Make sure you follow this routine all throughout the year so you are not left at the mercy of last moment notes and prayers.
3. Work on the subjects of the chapters that scare you
Who doesn't avoid things that scare us or makes us uncomfortable? All of us right. But ignoring a few subjects or chapters like horror movies will only result in them haunting you during examinations. Most students only study subjects that they love and enjoy learning. Some don't even take coaching or tuitions for the ones that they are bad at.
CBSE Class 10 Topper has the discipline to face their fears. Even they have some chapters or subjects they are not particularly fond of. But instead of running away from them or avoiding them, they put more effort into their weaknesses.
If you want to score above 95% marks in your CBSE Class 10 examinations, then picking and choosing is not your privilege. A student who merely wants to pass or score average marks can only focus on a handful of chapters, but an aspiring Class 10 CBSE Topper needs to study them all.
Pay more attention to the Subjects or Chapter you score fewer marks on. Take hold of your past reports cards to understand your weak points. Ask your Tutor or Teacher to help you with the part that you get stuck with the most. Be vocal about what you understood and what you didn't.
4. Conceptual Learning
Most students read books for the sake of reading, study chapters for the sake of studying. Merely sitting with a book and reading it at the surface level will only garner results at the surface level. CBSE Class 10 Topper's are known to concentrate more on Conceptual Learning. They study the Concepts that each subject and each chapter has to offer.
Students who have no aim to score a certain percentage just read through, but Toppers focus on In-depth studies. As discussed in point number 1 – Quality over Quantity, what differentiates learning from quality learning is the depth of study. So if you want to make your Study Routine and Hard Work reap the benefits, focus on understanding Concepts.
Try to understand the concepts in the simplest formats, break them down into easy to remember steps and study them regularly. The same goes for Dates and Formulas.
5. Pattern Recognition
Passing the Class 10 CBSE Examinations is more of a strategized hard work. And after Consistency let us reveal the next key ingredient to score above 95% in CBSE Class 10: Pattern Recognition.
A student studies all year round. So many different subjects, various chapters, hundreds of concepts and thousands of formulas and all that is tested within a stipulated time. Look closely and you will find a Pattern. Every year's question paper follows a certain pattern and the students who are able to study according to that pattern turn out to be CBSE Class 10 Toppers.
Sample Papers and the Last 10 Years Papers should be your Best Friend. Make it a point to start solving these Question Papers on a regular basis. With every paper, you will be able to point out a particular format that has been followed for years. Apart from that, there are always repetitive questions and sums, which give you an added advantage over the rest.
6. Information Retention
Did you know that there are two types of Memory – Short Term and Long Term. Any new information that you feed into your brain is initially stored in your Short Term Memory. That is exactly why most students forget the chapters they had studied at the beginning of the school year.
The only way to remember everything that you study is to increase your Information  Retention. You increase your Knowledge Retention by transferring your learning from Short Term to Long Term Memory. The simple trick every CBSE Class 10 Topper used to do this was Repetition. Most students only study a chapter once and then the second time just before the examinations.
So by that time our Brain had erased that knowledge from the short term memory. So make sure you revise each chapter after certain durations of time. This keeps the information fresh in your memory and the repetition allows the information to get transferred to your Long Term Memory.
7. Make your own Notes
Every student is studying the same textbook, they are learning the same information but when you write answers each answer is written in a different style and format. Some students write the bookish language. They believe in mugging up word by word.
But Toppers have their own way of studying. They make their own notes. Make Note taking a habit. When you sit for back to back examinations, your notes will be the biggest time savers. Make notes in your own language i.e. the way you would write in the exam and use bullet points.
Maintain Notebooks for each subject separately and maintain it. You can read hundreds of books written by the most educated people in the world, but nothing adds up to your own handwritten notes.
These are our Top seven Tips to score above 95% in your CBSE Class 10 Examinations –Topper Edition. Everything boils down to 3 core things that we had discussed at the beginning of this Article – Hard Work, Smart Work, and Consistency.
Mix these three ingredients with the seven strategies discussed above and you are on your way to score above 95% in your CBSE Class 10 Examinations. Want more Information on CBSE Class 10 Studying Tips, Tricks and Examination Details? We got you covered.
Stay updated with all the latest news and model papers for CBSE Class 10 and other Examinations Click Here.