CBSE 12th Topper List Interview and their Inspiration Message to Students
CBSE 12th Topper List Interview: Class 12 CBSE Results 2019 was announced online via the Official CBSE Website www.cbseresults.nic.in. The total percentage of Pass marks have been declared to be 83.4% from more than 12,000 Schools spread across almost 5000 exam centers.
CBSE 12th Topper List Interview and Result Details:
The Total number of students who appeared for CBSE 2019 was almost 13 lakhs. The overall Performance of Girls has exceeded the Performance of the Boys by almost 9%. Amongst these 13 lakhs students who appeared for CBSE Class 12 2019 Examinations, we have two Joint Toppers, both of whom are girls from the state of Uttar Pradesh. Both these girls scored a total of 499 marks out of 500in CBSE 2019 Class 12
Examinations.
CBSE 12th Topper List Interview:
Hansika Shukla and Karishma Arora from Ghaziabad and Muzaffarnagar respectively have successfully topped this year's Central Board for Secondary Education (CBSE) Class 12 Examinations with their outstanding performance and both got 499 out of 500.
What is the Success behind their CBSE 12 Results:
Hansika Shukla: I have never aspired to be a Topper but always aimed at giving my 100% Effort. My Mother has always taught me to do my best and then not worry about the results. The Mantra for Success and my Advice to other students is that all you have to do is the belief in yourself and never limit yourself in Disbelief that you can't do it.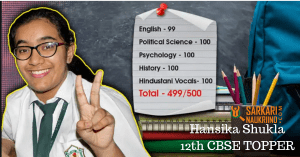 Karishma Arora: My Parents, Teachers, and my School Principal have been a great
support for me. I would like to advise future aspirants to have a study routine in the Morning Hours of the day as that is what I used to do.
CBSE Class 12 Examinations of the year 2019 ended on 30th March and its results were released in a month from the last examinations. Other information about the CBSE Results :
1.  Thiruvananthapuram, Chennai and New Delhi became the Top Three States to
outperform the other states of India in terms of Pass Percentage.
2.  Thiruvananthapuram holds an overall 98.2 percent being the Highest Performing
State.
3.  Chennai holds the second position with 92.93 percent.
4. Followed by New Delhi in the third position with 91.87 percent.
5. Second in Rank is Three Students who scored 498 out of 500.
6.  Gaurangi Chawala, Aishwarya and Bhavya from Rishikesh, Raebareli and Haryana's.
Jind missed the Toppers spot for CBSE 12 by just 1 mark.
CBSE 12th Topper Interview:
Below are the videos of the CBSE topper in which you get to know all about their preparation process and struggles.
NOTE: Video Credit to NDTV and BBC News India.
For more information keep the following Click Here
We keep updating our site with the latest Information related to Government
Examinations and Government Jobs.