How To Apply Caste Certificate Online in Bihar 2020
Caste Certificate Online In Bihar: You Can Jati Online from the website and Collect Certificate From Counter. it is a very easy process takes only a few minutes. You can do it from your smartphone. Print Your Application Form and directly collect it from Block. Here You Will Find Full Details About Caste Certification Online Bihar (Jati Online).
Bihar Right To Public Service (Bihar RTPS) has created a new website (serviceonline.bihar.gov.in) for Caste, Income, Residence certificate online. These certificates are an essential document that certifies that a person belongs to a particular community, his/ her income. Therefore we can say certificates confirm what the social status of a person is the link  here. source of Bihar RTPS Service Plus Online Apply (आय, जाति, निवासी) Status ⋆ FYJC and thank you for reading this article.
बिहार जाती प्रमाण पत्र बनाना बिलकुल आसान है, बस ऑफिसियल वेबसाइट को विजिट करे और अपना detail submit करे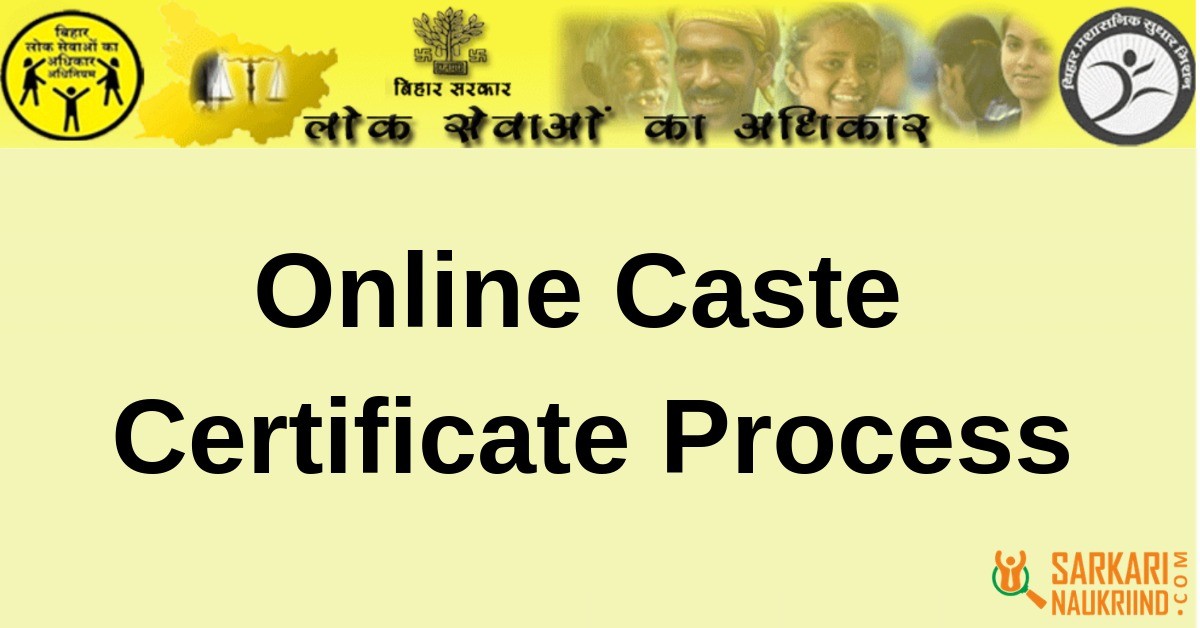 Caste Certificate Online Bihar
Caste Certificate Online From Official Website RTPS Bihar.  you need a laptop/Smartphone with Internet Connection. The Application is Free, no need to pay any amount. Check Below Tables
Name Of Certificate
Caste Certificate
Name Of Portal
RTPS Bihar
Application Mode
Online
Application Fee
Free
दोस्तों निचे मैंने सारा process बता दिया है, अगर आपको कोई परेशानी हो तो हमें जरुर बताये हम आपकी जरुर मदद करेंगे
जाती प्रमाण कैसे करे
जाती प्रमाण कैसे करे ऑनलाइन, आपको हिंदी में बतायेगे
सबसे पहले आप ऑफिसियल साईट पर जाए, लिंक निचे दिए है
फिर वहां ऑनलाइन का एक option मिलेगा वहां
आप अपना आधारकार्ड details अपना रोल नंबर डाले
फिर अपना मोबाइल नंबर डाले
RTPS Caste Certificate (Jaati Praman Patra)
In India as well as in Bihar reservation system. If anyone comes from a reservation category, then they will get some benefits in Govt jobs, Schemes, etc. For this, they have to show their caste certificate for getting benefits. To make Jaati Praman Patra people have to visit RTPS service plus official website. the link given. source of Bihar RTPS Service Plus Online Apply (आय, जाति, निवासी) Status ⋆ FYJC and thank you for reading this article.
Required Documents
The Following Documents will be required at the time on registration certificate Online In Bihar:
Adhar Card
Mobile In Adhar
Photo
Signature
How To Online Caste Certificate Bihar
Online Caste Certificate in Bihar Is too much easy. Follow the below-mentioned steps:
Visit Official Website Of RTPS Bihar or Click here
Read Notice After opening page
Click On I Agree.
Choose Block.
Full Name
Your Adhar Card Details.
Your Mobile Number And Click On Get OTP.
Enter OTP And Click On Submit.
Take Printout And Goto block and collect your Jati (Caste Certificate).
How To Print Receipt Of Caste Form
You need to follow below steps:
Visit Official Website Of JAti Form Online
Find "Print" And Click On It
Enter Your application Id
Click On Submit
A PDF Will Open Save it
And Show It Counter.
Any Problem to related jati online you can leave a comment below.
दोस्तों अगर आपको कोई मदद चाहिए तो निचे comment बॉक्स में करके बताये