Bihar Student Credit Card Scheme – How To Apply and Take Loan
Bihar Government launched the Student Credit Card Scheme in the state of Bihar from 2nd October 2016. The state government is providing education loans under the Bihar Student Credit Card Scheme of up to 4 Lakh to 12th pass students from the academic year 2016 – 2017. Under the scheme the government of Bihar also provides credit cards to about 5 Lakh students every year. The Bihar Student Credit Card Scheme is basically an educational finance scheme for poor and backward class students with bright merit. Here we will discuss all details about the Bihar Student Credit Card Scheme.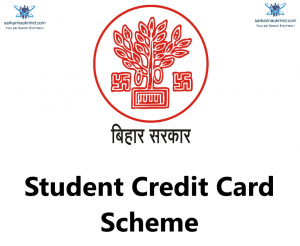 How to Apply for Bihar Student Credit Card Scheme
Go to the official website of Bihar Student Credit Card Scheme, 7nishchay-yuvaupmission.bihar.gov.in
You can also download the Mobile App for the Student Credit card Scheme from the Android Play Store.
Click on the tab Bihar Student Credit Card Scheme.
Click on Apply Online.
Fill your personal details.
Click on
Print the conformation page for future references.
Documents Required for Bihar Student Credit Card Scheme
After collecting all the documents, students will have to visit the counters on the appointed date. There will be a single application form format for student credit card scheme which will be applicable at all banks. The documents required for Bihar Student Credit Card Scheme are:
Admission related certificate or selection certificate from the higher education institution.
Detailed document of the fee for the education, to be issued by the institution.
Resident certificate.
12th Pass certificate.
Self attested copy of the online filled application form with passport size latest photo pasted on it.
PAN Card
Two photographs each of student, parents and the guarantor.
Family income certificate of last year and Form-16.
Income return on last two years.
Last 6 month statement of bank accounts of parents.
Income tax deposit receipt, if any in case of advance tax, property tax or municipal committee tax.
Other personal identification documents such as AADHAR card, Passport, voter ID card or Driving License etc.
Process for Loan Approval for Bihar Student Credit Card Scheme
There are several steps for approving the loan for the Student credit card scheme.
The government officials will examine and verify all the details and documents submitted by the students including the admission related details from the respective educational institutions. This will be done within 15 days after receiving the documents from the students.
After verification, details/documents will be shared with the banks which will then approve or disapprove the loan within 15 days. The loan approval/disapproval with reason information will be shared by the banks to the applicants by SMS.
Official Link for Bihar Student Credit Card Scheme
The student can check the further details about Bihar Student Credit Card Scheme on:
www.7nishchay-yuvaupmission.bihar.gov.in