Bihar Polytechnic Syllabus 2020 | DCECE Syllabus | DCECE Exam Pattern
Bihar Polytechnic Syllabus 2020 has now published by the Bihar Combined Entrance Examination Board (BCECE). It conducts the Bihar Polytechnic exam known as Diploma Certificate Entrance Competitive Examination (DCECE). This will have physics, chemistry, mathematics, and biology subjects.
For Exam, preparation the candidate must know the exam pattern and the Bihar Polytechnic Syllabus for the exam. Candidates who fulfill the criteria can apply for DCECE 2020.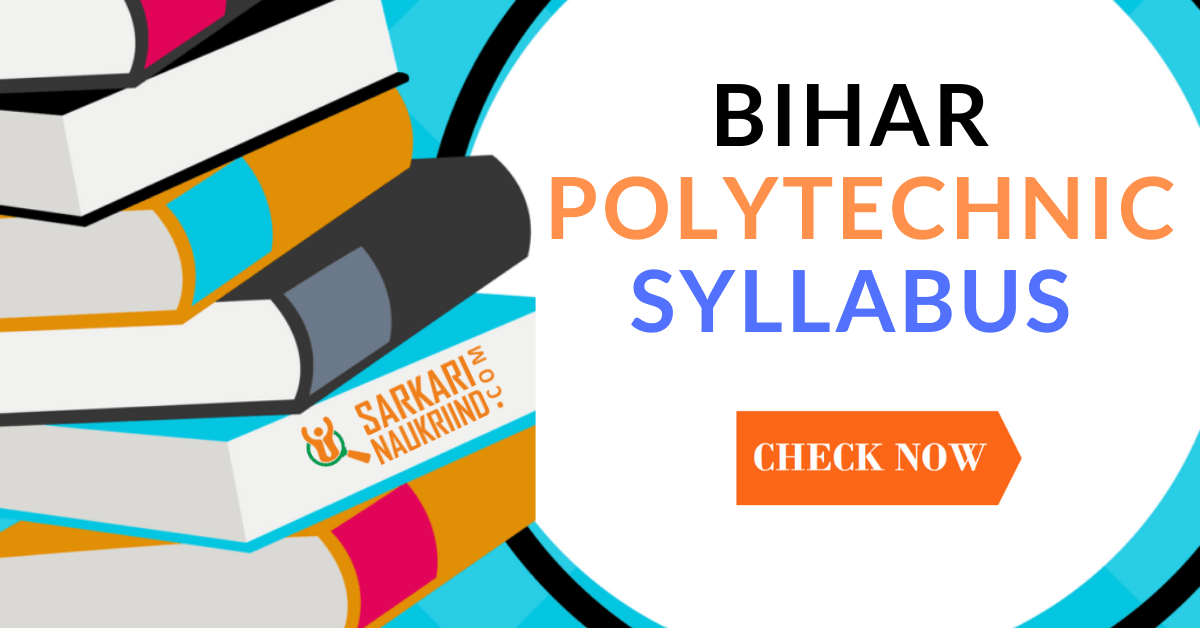 This can be on the official website bceceboard.bihar.gov.in. Candidates can go to this page. For the whole DCECE 2020 Syllabus. And also for preparation and exam pattern.
Related Bihar Polytechnic
Bihar Polytechnic Syllabus 2020
Applicants should prepare for the exam as to the Bihar Polytechnic syllabus 2020. This is by the officials. The official syllabus will be announced by the authority. Do according to the syllabus.
This will definitely lead you to get good marks. Candidates must also check this content for the complete syllabus.
The syllabus of the Bihar Polytechnic 2020 examination has these subjects. like  Physics, Chemistry, Mathematics, General Science, Hindi, English, General Knowledge & Biology. Below are the details for Bihar Polytechnic Syllabus that will help you to clear the exam.
DCECE  Syllabus of Physics

Polytechnic Syllabus of Mathematics

DCECE Syllabus of Chemistry

DCECE  Syllabus of Biology

Projectile
Algebra
Solid-state
Diversity In Living World
Friction
Sequence
Solutions

Structural Organisation In Animals And Plants

Waves
Principle of Mathematical Induction
Electrochemistry
Cell: Structure And Function
Circular Motion
Permutation and Combination
Concepts of Chemistry
Plant Physiology
Gravitation
Binomial Theorem
Structure of Atom

Human Physiology

Fluids
Matrix Algebra
Classification of Elements and Periodicity in Properties
Sexual Reproduction
Heat
Complex Number
Chemical Bonding
Genetics
Optics
Trigonometry
States of Matter: Gases and Liquids
Human Welfare
Electrostatics
Triangle
Thermodynamics
Ecology & Environment
Current Electricity & Magnetism
Logarithm
Equilibrium
Biotechnology
Laws of Motion
Inverse Circular Function
Redox Reactions
–
Motion under Gravity
Geometry
Hydrogen
–
Modern Physics
Two dimensional: Up to equation of circles
Organic Chemistry
–
Measurement
Three dimensional

Up to straight line

Hydrocarbons
–
Electronic Devices
–
Chemical Kinetics
–
Communication Systems
    –
Surface Chemistry
–
–
   –
Alcohols, Phenols, and Ethers
–
–
–
Organic compounds
–
–
–
Biomolecules
–
–
Polymers
–
–
–
Chemistry in Everyday life
–
Bihar Polytechnic Exam Pattern 2020
The Bihar Polytechnic Exam Pattern has details about the type of questions. This has no. of questions, exam mode, duration of exam and more. The exam will be in offline mode and must follow the Bihar polytechnic syllabus.
The time period for the exam will be of 2 hours. The question paper has 90 questions. The question paper has a question in both 'English' as well as 'Hindi' languages.
There are Multiple Choice Questions (MCQ) in the question paper. Each correct answer will consist of 5 marks. There's no negative marking for the wrong answer.
DCECE exam will be conducted offline basis. There will be 90 MCQ (Multiple Choice Questions) type questions of a total of 450 marks. For four different courses, there will be different patterns and please follow Bihar polytechnic syllabus.
As there will be no negative marking. so students must do all the questions given in the question paper. Below is the table that will explain to you about DCECE Exam Pattern
| | | | |
| --- | --- | --- | --- |
| Courses | Subjects | No. of Questions | Total Marks |
| PE | Physics, Chemistry, Math | 90 | 450 |
| PPE | Physics, Chemistry, Math | 90 | 450 |
| PMD | Physics, Chemistry, Maths, Biology, Hindi, English, GK | 90 | 450 |
| PM | Physics, Chemistry, Numerical Ability, Biology, Hindi, English, GK | 90 | 450 |
How to prepare for DCECE 2020
To crack the Bihar Polytechnic Exam it is very important to know the Bihar polytechnic syllabus. Follow these preparation steps. Do have a look. This will be helpful.
Follow the routine
Revise 11th & 12th topics
Increase Speed
Must-Follow The Bihar polytechnic syllabus
Practice Previous Year's Question Papers
Make Notes
Stay healthy
do not get panic.
Do yoga
 candidates must review the syllabus
Go through the Exam Pattern mention above.
Books recommended
These are the recommended books that follow Bihar polytechnic syllabus. You may buy these online.
Few Years' Solved Papers and 5 Mock Tests of DCECE Polytechnic
Many Years' Solved Papers DCECE Mains Medical and Polytechnic Entrance Exam
Last Years' Solved Papers and 5 Mock Tests of DCECE Para Medical
Trueman's Elementary Biology – Vol. 2 For Class XII
Stay connected. We will soon update. Do comment your doubts in the comment section.