Bihar Polytechnic Counselling Result 2020 | How To Check Step By Step
Bihar Polytechnic Counselling Result 2020 is released. Registered Candidates can check their result by log in the official website of Polytechnic Counselling. If You have done Bihar Polytechnic Counselling online then you have a user id and password. User id and Password must be needed to check their counselling result online. This article will help you to check Bihar Polytechnic counselling result 2020. Read This Post to get full information.
Bihar Polytechnic Counselling Result 2020
The official notification for the counselling result date and process was released on 29.07.2019 in the official.  As we all know that the 1st round of online counselling was started and almost every candidates and fill their choices and according to the official notification the result should be declared between 08.08.2019  to  09.08.2019 (1.00 P.M.).
The result is delayed and every single candidate is worried about their result, there is not a  single update about the Bihar polytechnic counselling results form the DCECE board. This the examination of the  Polytechnic was also delayed by 45 days.   We tried to contact DCECE board regarding this they said before the 20th of August 2019 it will be declared on the counselling portal online. 
Af per the notification regarding the   2nd round of the counselling is also not started once it will start we will let you know.
How To Check Bihar Polytechnic Counselling Result
Below is the easy and simple steps that will help   Bihar polytechnic aspirants to check their results, simply follow these steps.
Step 1.    Visit the official website of  DCECE board  https://bceceadmissions.nic.in/RegistrationSys/Default.aspx
Step 2.   Once the webpage is open enter your login details like roll no, password and security code etc.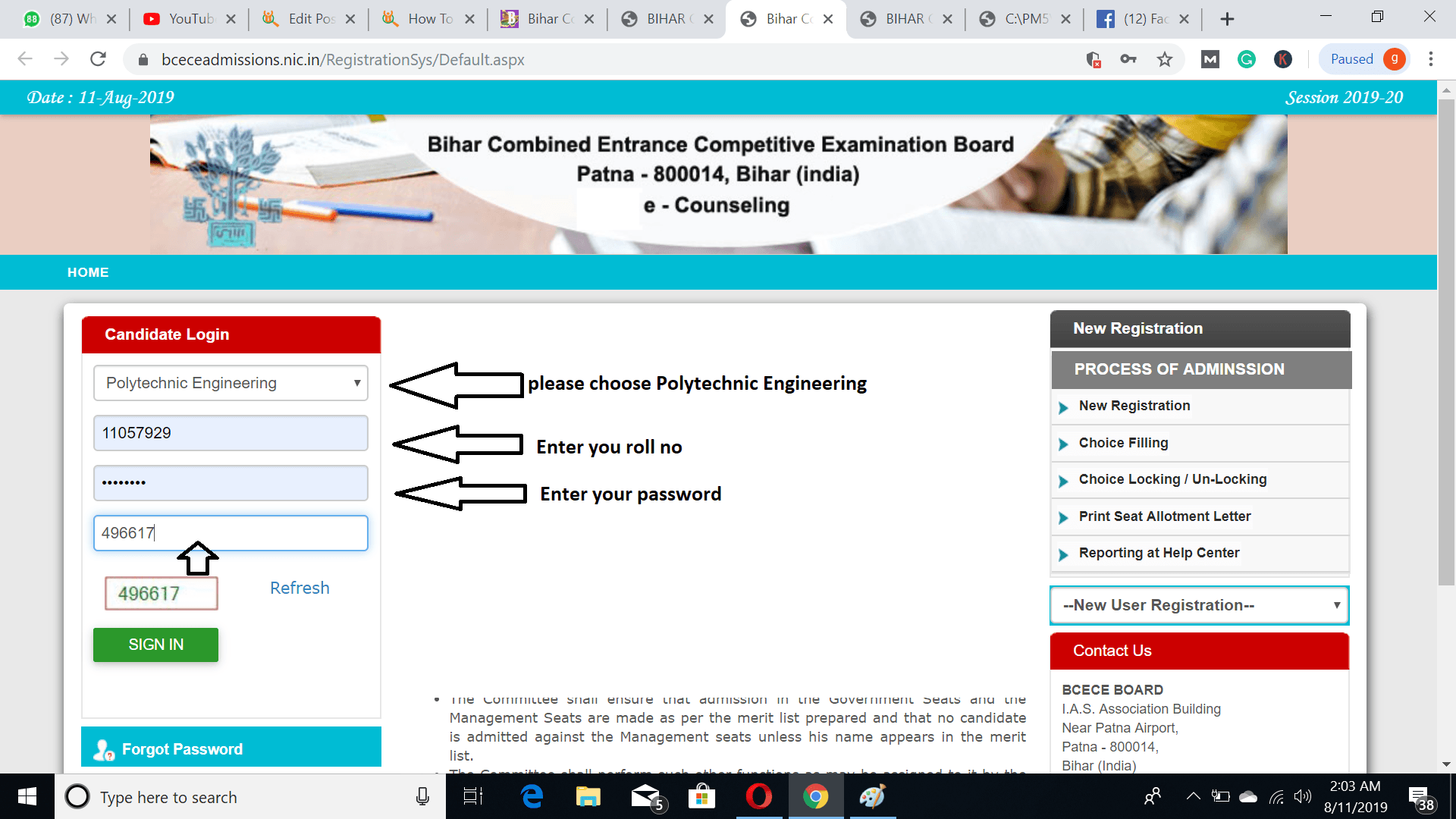 Step  3. After clicking on the   "SIGN IN Button".   Candidate counselling page  portal will open
Step 4.    Then  click on the   "mock   result tab" after clinking on  it your Bihar Polytechnic Counselling result will appear and   one  of your  filled choices of college with the branch will  appear  with Bihar Polytechnic reporting centre 
If   you have any question or problem please leave a  comment below.