Bihar Graduate Girl Scholarship 2021 – बिहार कन्या 25000 फॉर्म ऑनलाइन
Bihar Graduate Girl Scholarship will be reward 25000 Rs. If you are looking for Scholarship For Girl who passed Graduation, this is the right page to check all details. Eligibility, Process, Steps, And notifications.
Bihar Cheif Minister Shri Nitish Kumar is Announced that all-girl who have pass graduation Will be Rewards 25000rs Through Mukhyamantri Kanya Utthan Yojna( मुख्या मंत्री कन्या उत्थान योजना ). If you want to get full information about How To Apply Bihar Girl Scholarship 25000rs read all carefully.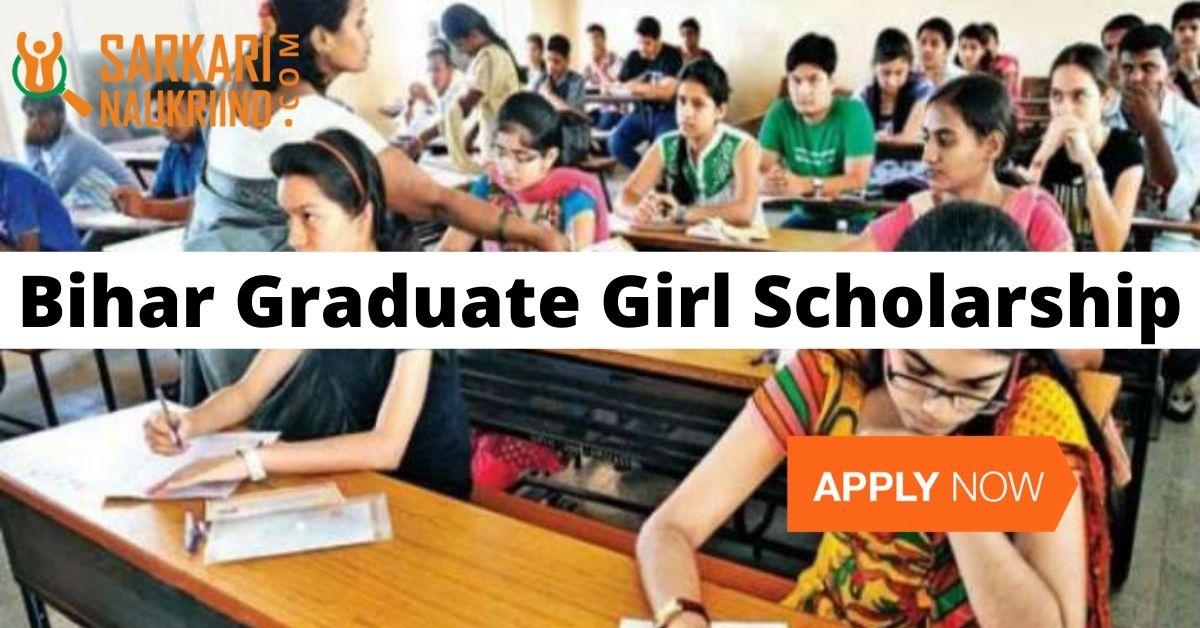 Bihar Graduate Girl Scholarship 2021
In the Latest notification, those girls will be rewarded 25000rs scholarship who passed after 25th Aprill 2018. Girl Will able to apply after these dates. The Scholarship will only deposit the girl personal account not family or other members accounts.
| | |
| --- | --- |
| Name Of Scholarship | मुख्या मंत्री कन्या उत्थान योजना |
| Amount | Rs 25000 |
| Eligibility | Graduate |
| Application Mode | Online |
| Application Fee | Free |
| Official Website | ekalyan.bih.nic.in |
| Other Scholarship in Bihar | Bihar Post Matric Scholarship Form 2020 |
| अंतिम तिथि | कोई अंतिम तिथि निर्धारित नहीं है |
Also Read –  E-Kalyan Bihar Portal – Bihar Scholarship Portal, Eligibility, Application
Scholarship Eligibility
The following eligibility criteria for the girl who wants Bihar Scholarship After Graduation. Read all Carefully before apply.
Residence Of Bihar. (बिहार के रहने वाला हो )
Graduate After Date 25th Aprill 2018 in any stream. (किसी भी कोर्स में ग्रेजुएशन किया हो 25 अप्रिल के बाद पास हो )
सभी केटेगरी
Also read – Bihar Scholarship (SC/ST/OBC) Registration Form 2020 – Apply Online Here
Graduate Girl Notification 2021
Read Below Notification Which is in Hindi. Read Full With Carefully.
Required Document
All Required Document which will be uploaded on the internet web listed below. हिंदी में जरुरी सोचना है वो पढ़ कर अपने फाइल तैयर करले
Photo of Student [फोटो का आकार 50 केबी से कम होना चाहिए। (निर्धारित आकार: 200 x 230 px)]
Signature of Student [हस्ताक्षर का आकार 20 केबी से कम होना चाहिए। (निर्धारित आकार: 140 x 60 px)]
Aadhaar Card of Student [केवल Black & White Scan दस्तावेज की PDF फाइल ही अपलोड करे तथा फाइल का साइज 500 kb या उससे कम होना चाहिए ]
Residential Certificate [केवल Black & White Scan दस्तावेज की PDF फाइल ही अपलोड करे तथा फाइल का साइज 500 kb या उससे कम होना चाहिए ]
First Page of Bank PassBook [केवल Black & White Scan दस्तावेज की PDF फाइल ही अपलोड करे तथा फाइल का साइज 500 kb या उससे कम होना चाहिए ]
Graduation Certificate/Passing Marksheet [केवल Black & White Scan दस्तावेज की PDF फाइल ही अपलोड करे तथा फाइल का साइज 500 kb या उससे कम होना चाहिए ]
How To Apply Bihar Graduation Girl Scholarship 2021
Bihar graduate girl scholarship online form can be done self by students. If you want to do be done scholarship online by self-read all steps carefully. बिहार स्तानक पास लडकिय खुद से अपना स्कालरशिप ऑनलाइन कर सकती है निचे मैंने आसान भाषा में लिख दिया है कृपया उसे पूरा पढ़े और खुद से अप्लाई करने का कोशिश करे
Visit Official Website or if you want to go direct on registration page Click here
After Clicking or direct link, the page will open where written all-important instruction.
Click On new Registration Or if you already register then click on the login
Fill All Important Personal Details Such as Full name, Father/Husband Name, DOB, Adress, and other details.
Upload All Required Document Which is Supported Format. ( Listed In Required Document Page)
Click On Save
Re-Check All Details Which Is correct or not.
Click On Submit
Take Print Out the Last Page For Further Use.
बिहार स्तानक गर्ल स्कालरशिप कैसे करे ऑनलाइन
मैंने ऊपर इंग्लिश में लिख दिया है अगर आपको इंग्लिश समझने में दिक्कत हो रही है हिंदी में पढ़े
सबसे पहले लिंक ओपन करे (ऊपर मैंने दे रखा है )
फिर अगर आप पहली बार रजिस्ट्रेशन करने जा रहे है तो न्यू पंजीयन पर क्लिक करे
अब आप सारा details फिल करे
फिर सारा डॉक्यूमेंट अपलोड करे
सबसे आखिर में सबमिट पर क्लिक करके
Print करे या screenshot लेले आगे काम आ सकती है
अगर आपको अभी भी कोई सवाल है तो निचे कमेंट करके पूछ सकते है
HelpDesk
Adarsh Abhishek –
+91-8292825106
2. Raj Kumar –
+91-7004360147
3. Kumar Indrajeet –
+91-9570646070
4. IP Phone (For NIC) –
23323
Mail Id [email protected]
Above All Details Are Copied from the official website.
If you have any questions regarding Bihar Graduate Girl Scholarship Please leave a comment below. Our Expert Team will help you.
Frequently Ask Question
Q. मेरे कॉलेज का लिस्ट मैं नाम नही है कैसे करे आवेदन?
Ans: अपने विश्वविद्यालय के रजिस्ट्रार से संपर्क करके उसका नाम जोड़ने का आग्रह कर सकते है |
Q. आधार NO गलत है  Bihar Graduate Girl Scholarship कैसे करे अपडेट ?
Ans. ऑफिसियल वेबसाइट पे लिंक उपलब्ध है लॉगिन करके करसकते है अपडेट
Q. क्या एक विद्यार्थी दो आवेदन कर सक ता है ?
Ans: नही , एक विद्यार्थी के द्वारा केवल एक आवेदन ही भरा जाएगा |
Q. आवेदन करने की अंतिम तिथि क्या है ?
Ans: आवेदन करने की कोई अंतिम तिथि निर्धारित नहीं है |
Q. कैसे करे Bihar Graduate Girl Scholarship आवेदन का स्टेटस चेक ?
Ans: ऑफिसियल वेबसाइट पे आधार कार्ड के द्वारा करसकते है चेक direct link.