Bihar Board 10th Routine 2019 – BSEB Class 10th Exam Routine 2019 Datesheet
Bihar Board 10th Routine 2019 is already released. Board Fixed Time And Date For Upcoming examination of Matric. The First exam on date 21st February 2019. Board Recently Fixed or confirm this date on their official website. Every Year Exam is taken in this date between February to March. If You are Searching to Bihar Board 10th Model 2019 no worry click on blue line it will open a new page where all model set in pdf format. Now Here Bihar Board 10th Routine 2019 
Bihar Board 10th Routine 2019
BSEB 10th Routine 2019 is given below the table. This Routine is officially correct. Exam Ends on 28th February 2019 See Full Table for Better Idea of Bihar Board 10th Routine 2019.
Date
First Shift ( 9:30 t0 12:45)
Second Shift( 1:45 to 5:00)
21.02.2019
English
English
22.02.2019
Social Science
Social Science
23.02.2019
Science
Science
25.02.2019
Mathematics
Mathematics
26.02.2019
Language Subjects
Language Subjects
27.02.2019
Second Language Subject
Second Language Subject
28.02.2019
Extra Subject
Extra Subject
save this page as the bookmark for future. Visit SarkariNaukriind.com for other updates

In This Above table Show all subject wise exam date. This Is official ExamUpdates Dates.
BSEB Class 10th Exam Routine 2019
BSEB Class 10th Exam Routine 2019 Is Already Declared, Here you can see you exam dates starting and ending dates of exam.  Recently Board Confirm And Upload On their official website. Below We adding image for reference.  Click On Image image Will Zoom Automatically.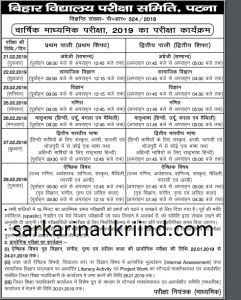 Bihar Board 10th Time Table 2019
Bihar Board 10th Time Table 2019 Already released. Students Can check here for full information of exam dates shift and other important updates regarding 10th Exam Of Bihar Board. You Can Also see above image and table show exam dates with the subject.
बिहार बोर्ड 10 थ रूटीन  2019
बिहार बोर्ड 10 थ रूटीन आ चूका है आप यहाँ सभी जानकारी ले सकते है, परीक्षा कब और कितना समय से शुरू है,  बिहार बोर्ड 10 वी परीक्षा 21 फेब्रुअरी से शुरू है ऊपर दिए गये टेबल में आप देख सकते है, अगर आपको किसी कुछ सवाल हो तो निचे comment कर सकते है हम आपकी जरुर मदद करेंगे
Enter Correct Details To Receive Fast Updates In Your Inbox 
How To Download Bihar Board 10th Routine 2019
You Want to Download Bihar Board 10th routine 2019, you need to follow some easy steps to download officially time table for the class 10th exam. Bihar Board Site navigation is too much easy just follow some steps and get the download.
 First Visit Official Website of Bihar Board i'e www.biharboardonline.gov.in
Then Scroll Below And Find Circular 
And Click On Read More
Where You Will Find Name Bihar Board 10th Routine 2019  Click On File
File automatically Download as pdf format
Open PDF File Where You See Full Time and date just like above we show.
Thanks, If This post help please share with a friend and share on Facebook & Whatsapp etc
Any Help Comment Below.