Bihar Awasiya Apply – RTPS Bihar Online Services आवासीय एप्लीकेशन
Residents of Bihar can apply for the Bihar Awasiya certificate online. Awasiya application will process through Right To Public Service (Bihar RTPS) has built a new website Bihar service online for Caste, Income, House certificate online. These certificates are a crucial document that certifies that a person belongs to a particular community, his/ her income.
The Bihar Right to Public Service (RTPS) gives services to apply online the Income, Caste, and Residence Certificate application form. All Applicants who are willing to read on RTPSC Bihar Portal then need to Aadhaar Card Number and its linked Mobile No. You can easily enroll on the portal for Jati, Niwas, and Aay Praman Patra and get RTPS status by SMS. Read the full article to know more about the Bihar Awasiya Apply.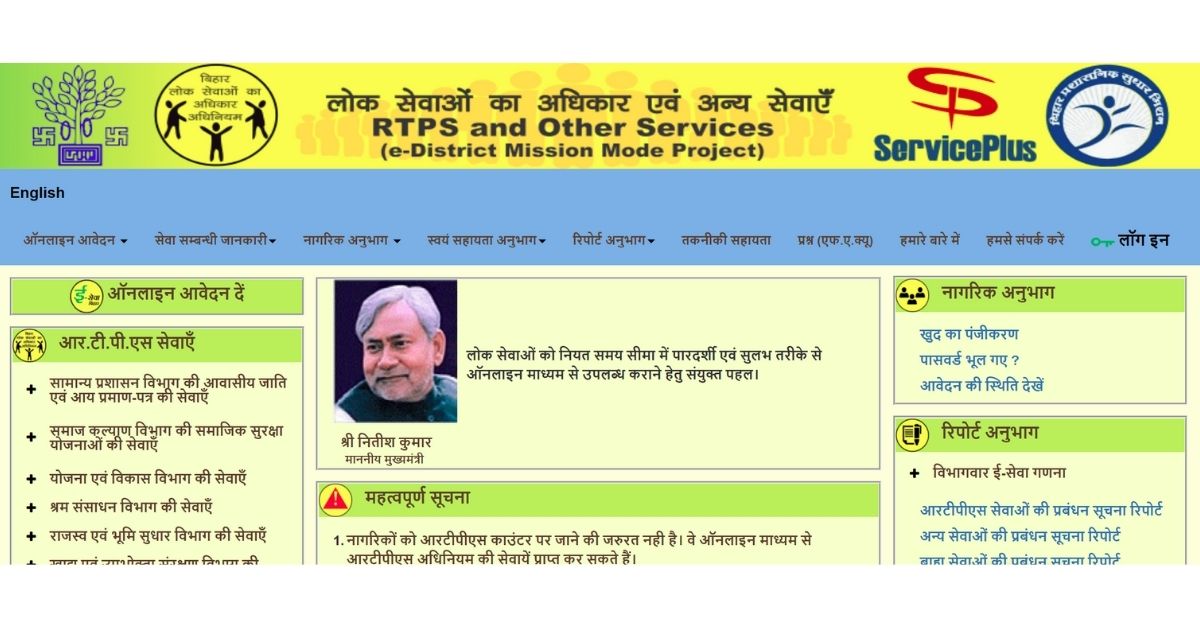 All Candidates who are willing to apply online application then download official notification and read all eligibility criteria and application process carefully. We will give short information about "RTPS Bihar 2021" like Scheme Benefit, Eligibility Criteria, Key Features of Scheme, Application Status, the Application process, and more.
Bihar Awasiya Apply 2021 – Overview
Check the detail table here. Do have a look at this.
Bihar Service Online – Overview
Name of Scheme
RTPS Bihar
in Language
आरटीपीएस बिहार
Launched by
Government of Bihar
Beneficiaries
Citizen of Bihar
Major Benefit
Income, Caste and Residence Certificate
Scheme Objective
Provide Online Public Services
Scheme under
State Government
Name of State
Bihar
Post Category
Scheme/ Yojana
Official Website
serviceonline.bihar.gov.in
Important Dates
Event
Dates
Starting Date to Apply Online
Always Available
Last Date to Apply Online
Always Available
Also read – RTPS Bihar Online Certificate – Caste, Income, OBC, Residence And Land
Bihar Online Registration Process – Bihar Awasiya Apply
Bihar Government had started the online portal for various certificates and schemes i.e. RTPS. RTPS stands for Right to Public Service. You can follow just simple steps to apply for online RTPS Certificates i.e. caste, domicile, income, birth, death, etc. You can also order caste certificates in various categories i.e. OBC, SC, ST, etc. Check the full details here of Bihar Awasiya Apply.
1- Visit the Official Website of RTPS Bihar i.e. http://rtps.bihar.gov.in/rtps/.
2- On the Homepage, Click on the Option "Apply Online" link on the menu.
3- Next, read the times and conditions then After reading this I have to click on agree below.
4- Now Select From Where You Want To Receive The Certificate:
Block
Bihar Bhawan 5, Kautilya Marg, Chanakyapuri, New Delhi-110021
5- You will go to a new page where you will be asked for your Aadhaar number, your name in Hindi and English.
6- After this, you have to select the appropriate certificate. For instance, if you want to get a caste certificate, then you have to click on the caste certificate.
7- Then the registered mobile number has to be entered into the Aadhaar card.
8- After starting the mobile number, you have to click on the Next button.
9- Now an OTP will come on your enrolled mobile number.
10- This OTP will have to be tested by filling in the box provided.
11- Then you will have to fill in all the information given in the form according to the information mentioned in your Aadhar card.
12- Please verify the all filled details and click on I agree and finally click on the submit form button.
13- After which you will be provided a registration slip. You should get a printout of this registration slip and keep it safe for the future. With its help, you can also check the status of your application.
Also read – Bihar Graduate Girl Scholarship 2021 – बिहार कन्या 25000 फॉर्म ऑनलाइन
How To Check Bihar आवासीय एप्लीकेशन Status?
Below are the easy and simple steps to check Bihar Awasiya Status online.
1- Visit the Official Website of serviceonline.bihar.gov.in.
2- On the homepage, you have to agree on the application status option.
3- On this page, you have to fill in your application ID. After this, you have to agree on the status option.
4- After this, the rank of your application will appear in front of you.
For Bihar Caste Certificate
Proof of Identity – Aadhar Card, Voter ID Card Passport, Pan Card
Proof of address – Aadhaar card, driving license, residential certificate, Rent slip, and fare agreement.
Photocopy of ration card
For income certificate
Age proof (birth certificate or mark sheet),
Ration card of the applicant
Residential proof,
Income statement (monthly salary, salary slip)
For residence certificate
Aadhar Card,
Voter ID card
Ration Card,
Pan Card.
Aslo read – Bihar Post Matric Scholarship Form 2021, Last Date and How to Apply Online
बिहार आवासीय एप्लीकेशन – Bihar Awasiya Apply Online
Short Scheme Details
Name of Scheme
Bihar Awasiya Apply
Application Status
Active
Scheme Benefit
Income, Caste and Residence Certificate
Scheme Published On
08/24/2020
Scheme Updated on
02/02/2021
How To Make Income And Residence Certificate?
To make Income and Residence certificates, you have to visit the RTPS service official website. On the right side, you will see the right. Click on the link as you concern. The direct link for the online application is also available on this page. the link https://wp.me/pbc6Zh-1o source of Bihar RTPS Service Plus Online Apply Status thank you for reading this article.
 FAQ
What is the full form of RTPS?
The full form of RTPS is Right to Public Service.
Is Bihar enabled with RTPS 2?
Yes, Bihar is also on the list of Service-2, you can use now RTPS Plus.
How to Apply Online for RTPS Bihar?
There are several ways to apply online but we are using the simplest way in the Article for your convenience.
Can I fill the offline application form for this service?
Yes, you can fill the offline application, you just require to visit your Block.
Is serviceonline.bihar.gov.in is the official website?
Yes, serviceonline.bihar.gov.in is the only approved website of RTPS.
We will soon update. Do comment your doubts in the comment section below.