Asian Games 2018 Medal Table And India Gold Medalist Winner List
The 18th Asian Games were successfully organized from August 18 to September 2, 2018 in Jakarta and Palembang in Indonesia. The 2018 Asian Games opened on August 18, 2018 with a splendid and spectacular inauguration ceremony at Gelora Bung Karno Stadium in Jakarta. Thousands of sportspersons from about 45 Asian countries took part in the opening ceremony of the 18th Asian Games. India's javelin thrower Neeraj Chopra led the Indian contingent as the flag bearer in the opening ceremony at GBK stadium. Indonesian President Joko Widodo took the entry in the stadium on a motorcycle. The Afghan contingent took the entry first in the stadium in the opening ceremony. The athletes from North Korea and South Korea entered the stadium as a one united team show growing close ties between the two countries. Indonesia gave the glimpses of its culture, heritage and customs through many programmes in the opening ceremony.
A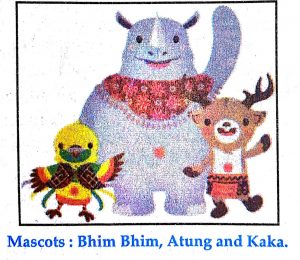 About Moscots Bhim Bhim, the colorful bird of paradise, Atung, the Bowean deer and Kaka, the one-horned Javan rhino were the three mascots of the 18th Asian Games.
2018 Asian Games Record
Chinese Wushu athlete Sun Peiyuan clinched the first Gold medal of the 18th Asian Games. Sun scored 9.75 to win the men's Changquan category of Wushu.
Bajrang Punia won the first gold medal for India in the 18th Asian Games Bajrang won the top prize in Men's 65 kg category wrestling.
China as usual dominated the Asian Games in Jakarta in terms of medals from beginning to end. China emerged overall champion of the 18th Asian Games, winning whopping 289 medals including 132 golds and 92 silvers.
Japan, another sport powerhouse of Asia, finished distant second on the medal tally. Japan clinched total 205 medals including 75 golds and 56 silvers.
Host Indonesia clinched total 98 medals in the games (31 golds, 24 silvers and 43 bronzes) to secure fourth position in the medal tally.
India remained on 8th position, winning impressive 69 medals including 15 golds and 24 silvers.
Indonesia successfully hosted the mega sport event for 16 days in Jakarta and Palembang.
The Games came to a successful conclusion on September 2, 2018 when Indonesia bade an emotional adieu to the Games.
Olympic Council of Asia President Sheikh Ahmed Al-Fahad Al-Ahmed Al-Sabah congratulated the hosts for a successful organizing of the Games. International Olympic Committee President Thomas Bach also attended the closing ceremony. Indonesia presented its culture through many colourful programmes in it. The two Koreans again gave a unified entry in the closing ceremony ending the games on a positive and cheerful note.
Indian women's hockey team captain Rani Rampal led the Indian athletes group as flag-bearer in the closing ceremony.
The baton of the Asian Games was passed onto Hangzhou, China, the host of the 19th Asian Games in 2022.
Top Ten Country Medal List 2018
Below The table of top 10 countries of gold medallist winner of 2018 Asian Games.
Country
Gold 
Silver
Bronze
Total Medal
China
132
92
65
289
Japan
75
56
74
205
South  Korea
49
58
70
177
Indonesia
31
24
43
98
Uzbekistan
21
24
25
70
Iran
20
20
22
62
Chinese Taipei
17
19
31
67
India
15
24
30
69
Kazakhstan
15
17
44
76
DPR Korea
12
12
13
37
Above Table According To Gold Medal.  CommonWealth Gold Medal List Here
India Gold Medallist Winner List In 2018 Asian Game
All 15 Gold Medallist Winner list are given below. Check Below the table.
India Gold Medallist Winner In 2018 Asian Game

Winner

Sports/Events
Bajrang Punia
Wrestling ( Mens Freestyle 65kg)
Vinesh Phogat
Wrestling (Women Freestyle 50kg)
Saurabh Chaudhary
Shooting ( Men's 10-meter air pistol)
Rahi Sarnobat
Shooting ( Women's 25 meter air pistol)
Swarn Singh, Dattu Baban Bhokanal, Om prakash, Sukhmeet Singh
Rowing ( Men's Quadruple Sculls)
Rohan Bopanna, Divij Sharan
Tennis ( men's Doubles)
Tajinderpal Singh Toor
Athletics (Men's Shot Put)
Neeraj Chopra
Athletics (Men's Javellin Throw)
Manjit Singh
Athletics ( Men's 800 Meters)
Arpinder Singh
Athletics ( Men's Triple Jump)
Swapna Barman
Athletics ( Women's Heptathlon)
Jinson Johnson
Athletics ( Men's 1500 Metres)
M.R. Poovamma, Sritaben Gaikwad, Hima Das, Vismaya Koroth
Athletics ( Women's 4*400m relay)
Amit Panghal
Boxing ( Men's Light Fly 49kg)
Pranab Bhardhan And Shibnath Dey Sarkar
Men's Bridge Team
Above All Information are collected from official website and news sources, if you have any suggestion please comment below.
Please Share With Friend to help Other.