Aryabhatta Knowledge University Syllabus 2020 | AKU Syllabus PDF Download
AKU University Syllabus: Aryabhatta Knowledge University has released its academic course syllabus. Here you can find the download links for the complete academic program and syllabus for AKU University of Bihar.
AKU Bihar University's full Syllabus/semester wise syllabus (above curriculum is not yet revised by the  Aryabhatta Knowledge University. This model curriculum framed by AICTE under the consultation of MHRD. Curriculum for various branches (UG) Branches (UG) in engineering and Technology will follow this for the session starting  2018 and onwards.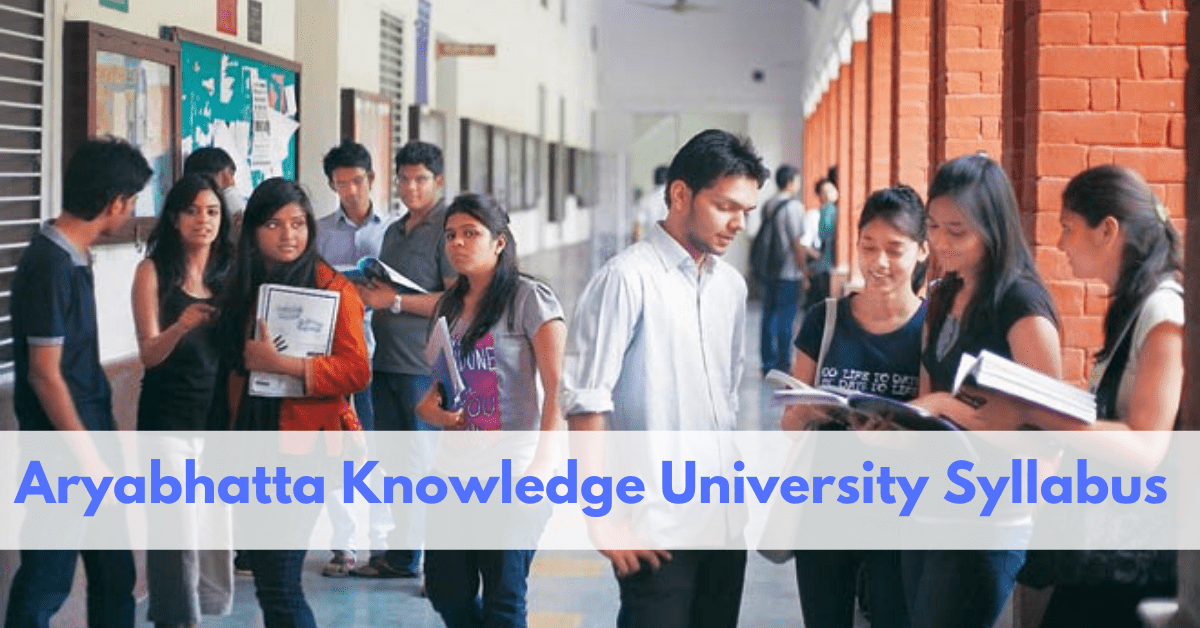 The institution provides various courses like Yoga science, Paramedical, and therapy courses. It also has vocational courses like B.COM, B.CA & B.BA. Nano Science and technology are also offered here and the institution also deals with engineering and pharmacy.
we've provided the detailed syllabus with the links.
AKU Yoga Science Syllabus
YOGA is a science of individual well being, therefore it is highly desirable for our youngster to learn and practice. The aim of a diploma in yoga is to produce well-trained yoga teachers to teach boys and girls in different institutes. In the period of one year, the trainees would be well acquainted with the basic theories, philosophy, and literature of the yoga system and will be thoroughly trained in the practice of yoga. The syllabus for the yoga science is given below:
YOGA SCIENCE 

Syllabus

For Postgraduate Diploma In Yoga Science

Hatha Yoga, Raj Yoga, Jnana Yoga / Karma Yoga

RECOMMENDED BOOKS

Patanjali Yoga Sutra, Hath Yoga Pradipika, Yoga Meaning Practice and Values By Dr. Phulgenda Sinha
AKU Para Medical And Therapy Syllabus
Para Medical and Therapy Courses is the science that prevents, cure and rehabilitation of the physically, emotionally, mentally, and neurologically disabled and challenged people. Paramedical courses are usually related to the allied healthcare sector. These courses directed related to nursing, medicine ND Pharmacy. Usually, the students who have passed the 10+2 science stream are eligible to pursue with the help of the syllabus given below.
PARA MEDICAL AND THERAPY COURSES
Bachelor Of Physiotherapy
 CLICK HERE
Bachelor Of Medical Laboratory Technology
 CLICK HERE
Bachelor Of Ophthalmic Technology

Introduction Of The Bones Of The Human Body.
Surface Making Of The Whole Body.
Introduction Of The Different Vital Organs

Bachelor Of  Radio Imaging Technology
  CLICK HERE
AKU University River Studies Syllabus
RIVER plays an important role in shaping landscapes and creating a biologically diverse and unique ecosystem. River management and the founders of this program believe a new generation of young leaders is essential to create a brighter future of the nation's river. The center for the river studies are given below with all the details of the syllabus semester wise.
Center For River Studies
Semester 1

Introduction  To River Science
Surface And Ground Water Hydrology
River Ecosystem Process
Remote Sensing
 Data Analysis

Semester 2

River Engineering
Essentials Of River Management
Ecosystem Service
Water Policy
Field Training
AKU University Course Nano Science And Technology Syllabus
Nano Science refers to the study, manipulation, and engineering of matter, particles, and structures of the nanometer scale. Nanotechnology is the application of Nanoscience leading to the use of nanomaterials and components of useful products. Nanoscience and Nanotechnology are at the forefronts of modern research. In this course, you will learn the basics of physics, biology, and chemistry on the nanometer scale. check down below for the courses and the syllabus:
NANO SCIENCE AND TECHNOLOGY
M.tech and Ph.D

Soft condensed matter
Functional Nanomaterials
Nanotechnology in Energy & Environment
Advanced Nanobiotechnology
AKU University Other Diploma Courses Syllabus
Diploma courses are after the 10+2. The institution offered one-year Diploma courses in automobiles, healthcare, retail, diploma in mobile repairs and life skills. The courses will provide sufficient training to be a well-trained candidate for the future. Diploma courses with full detail syllabus are provided:
OTHER COURSES (ONE YEAR DIPLOMA)

DIPLOMA IN AUTOMOBILES

Introduction To The Internal  Combustion Engine
Power Transmission Information
Automotive  Electrical Descriptions
Servicing And Minor Repairing
Maintaining  Health And  Safety In The Environment.

DIPLOMA IN HEALTH CARE

Infection Control
Patient Hygiene And Movement
Clinical Observation
Food And Nutrition
Code Of Conduct
Life Skills

DIPLOMA IN RETAIL

Retail Basic Ideas
Customer Support
Customer Satisfaction
Self Learning
Merchandising
Life Skills
Planning Work And Working As A Team

DIPLOMA IN MOBILE REPAIRS

Introduction To Mobile Phones
The functionality of Hardware Components In A Nadset LIke Chiplets, Processor, Screen, and touchpad, etc.
Faults Diagnosis

DIPLOMA IN LIFE SKILLS
Click here
AKU University Vocational Syllabus
VOCATIONAL COURSES is the education that prepares people to work as a technician or in various jobs such as trade or a craft. This sometimes referred to as a career and technical education. B.BA, B.COM &B.CA comes under a vocational course category. The syllabus given below will help you to prepare your vocational course.
AKU University MBBS BDS Ayurvedic Syllabus
MEDICAL Medical Courses after 12th – offered through entrance exam. Bachelor of Medicine, Bachelor of Surgery – MBBS. BDS – Bachelor of Dental Surgery -. Bachelor of Ayurvedic Medicine and Surgery – BAMS. Bachelor of Homeopathic Medicine and Surgery – BHMS. BUMS – Bachelor of Unani Medicine and Surgery. Click below to the provided links for the detailed information regarding the syllabus.
AKU University B.Ed Syllabus
Education courses explore the practice of teaching from both an applied and theoretical perspective. Those who wish to inspire future generations might discover their calling in an education program. Aspiring teachers, school administrators, librarians. For that, you may pursue B.ED & M.ED .click below for more information.
AKU University B.TECH Syllabus And Pharmacy Syllabus
B. Pharma is one of the popular job oriented courses among science students after class 12th. In this course, the students study about drugs and medicines, Pharmaceutical Engineering, Medicinal Chemistry, etc. A Bachelor of Science is the minimum amount of education required to become a pharmaceutical engineer. More information on Engineering and Pharmacy are given below in the links with the full prescribed syllabus.
ENGINEERING AND PHARMACY

Syllabus Of Urban Planning Coe

CLICK HERE

Syllabus Of Disaster Management 

CLICK HERE
B.Tech & B.Pharm Programme
CLICK HERE
B.Tech & B.Pharm Old

Course

CLICK HERE
B.Tech Programme (REVISED)
CLICK HERE
Marks And Credit Table
CLICK HERE
I