Ansar Shaikh IAS | Inspiring Story For IAS Aspirants
The Maharashtrian boy with grit and determination passes the UPSC exam with flying colors despite the odds!
This story is about Ansar Shaikh, a Maharashtrian lad, the son of an Auto Driver, who became the very first graduate and most definitely the first ever civil servant in his family. He can also be called one of the youngest IAS officers in the country.
Ansar Shaikh recently made it to the front page of every newspaper in the country by cracking the super competitive exam of the Union Public Service Commission (UPSC) in his first ever attempt. In 2016, he secured an All-India Rank of 361. It is important to note here that he did all this at the tender age of 21 and against all the odds that were stacked against him.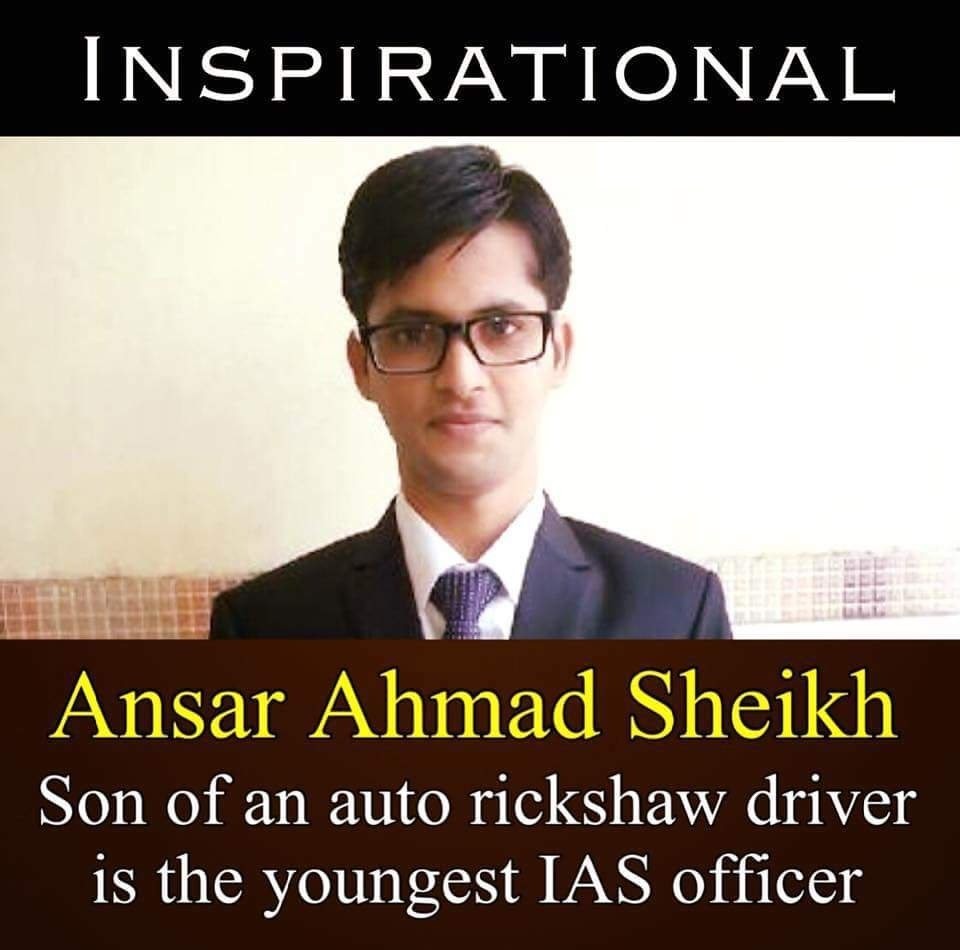 Ansar Shaikh comes from a family who initially had no belief in the entire education system, that is until Ansar Shaikh reinstated that faith by his unwavering determination and drive. Ansar's father is a rickshaw driver. His mother works as a farm hand, and she is the second wife of his father. His father struggled with alcohol addiction most of his life and Ansar spent the better part of his life in the cold confines of his home, a silent witness to the menace of child marriage and domestic violence. At the tender age of 15 years, his father married off his sisters. Moreover, his little brother, who is two years younger to him started working at his uncle's garage after dropping out of grade six.
Also Read 5 Inspiring Success stories for UPSC aspirants
Anyone in his place would have quit out of the immense pressure at home, but Ansar didn't. His relatives did not understand why he was still pursuing his schooling and often voiced their opinions to Ansar's father. The situation was such that Ansar's father even approached his teacher, saying he wanted Ansar to drop out. However, his teacher was quite persistent. The teacher told his parents how he would change lives, if only he were encouraged right now. So, his father finally decided to let Ansar continue his education and give him a chance. Ansar did not disappoint and proved his merit by scoring 91% in his boards in Class 12.
Despite his struggles, he is seen joking in interviews about his abysmal life back then and how it was like studying and learning in a Zilla Parishad school. He studied in a Marathi-medium school until Class 12th and hence, pursuing a Bachelor's Political Science degree from the renowned Fergusson College was a challenging decision. His father was surprisingly supportive as he kept sending him small amounts of money to survive in the city. On the other hand, his brother kept sending him INR 6000 every month (his entire monthly salary) in order to make Ansar's academic dreams come true.
Ansar had no luxuries and two pairs of clothes that he wore alternatively, and since he did not come from an English-medium school, he often struggled with a deep-set inferiority complex. However, he refused to give up. He was introduced to the UPSC exam during his first year of Bachelors by one of his teachers. He was immediately interested in the Sarkari Naukri and wanted to join the course; only the coaching fee cost INR 70,000.
However, the head of the course agreed to give him a 50% discount after he heard of Ansar's background and his determination to get into the program. He again struggled in class as he was the only 19-year-old student there and often found it challenging to interact with anyone. However, his curiosity and inquisitiveness as the course progressed made him interact with people. He knew that unlike the other UPSC aspirants around him if he failed the first attempt, he wouldn't get another chance.
He cleared the prelims but still had the mains as well as the interview to get through. While he was busy working hard and preparing for his mains, he got news that his sister's husband had died of alcohol overdose. His father as well as brother were both working so he naturally felt it his duty to comfort the family. However, his sister told him to return to Pune for his mains despite her grief. He cleared the exam yet again.
He fondly remembers his interview and the tricky questions that were posed to him. However, he held his own and answered all the questions with conviction and confidence. His score was 199/275, which is a remarkable feat when it comes to the USPC interview round.
Ansar addresses the upcoming IAS aspirants and tells them that their competition is not the countless individuals also vying for the same spot. Their only competition is they themselves. Therefore, all they need to taste success is optimism and belief in their hard work. He also believes that poverty and other drawbacks in a person's life should not hold him/her back. On the contrary, they should be the driving force that takes them to the zenith of success